Children of the Sea
By Jay Emmanuel with co-composition by Kavisha Mazzella and Pavan Kumar Hari. Encounter and Performing Lines. Directed by Jay Emmanuel . Subiaco Arts Centre, WA. Feb 10-13, 2021
Children of the Sea is a powerful theatrical work about survival and resistance, based on two years of research from writer/director Jay Emmanuel and interviews with over 60 survivors, border officials and human rights lawyers at Australian detention centres. Highly emotional and very moving, this powerfully presented piece is presented by Encounter and Performing Lines.
Designer Bryan Woltjen has transformed the theatre at Subiaco Arts Centre, with an immersive set that encompasses the whole space. This set also transforms within the show and is a wonderful realisation of the title and almost a character in itself. Matt Marshall's lighting design is outstanding and the soundscape created by Jay Emmanuel, Kavisha Mazzella and Pavan Kumar Hari, a combination of recorded and live music and vocals, is simply stunning.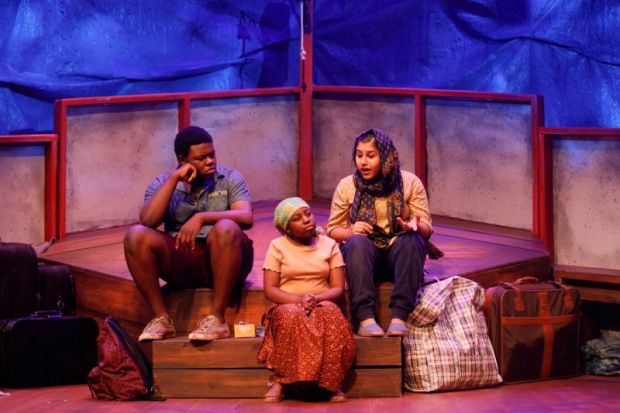 The play centres around unaccompanied refugee children making their way to Australia, and there is wonderful work from the children in this cast. Selected after a long period of workshops, these young performers, all Perth kids from migrant and refugee backgrounds, work together beautifully to create convincing and layered characters. Thirteen-year-old Maniya Amin-Dhegan is stunning as young Noor - both tough and caring, Harry Hamzat brought strength and sensitivity to former child-soldier Rami, Satchen Lucido is believable as the initially reclusive Mir, whose story is gradually revealed, with Happiness Yasini excellent as the youngest of the group, Hawa. The fifth young actor Abimanjou Mathivannan, plays a young crew member on the boat, then beautifully portrays Mir's older brother - with his own tragic story.
An ensemble of adults play unnamed passengers and a variety of roles in flashbacks. Strong support from Kavisha Mazzella, Pavan Kumar Hari, Richard Manganga, Jordan Azur and Manjula Radha Krishnan (whose scenes as Mir's mother are especially moving).
Performed in English, Farsi, Urdu, Kirundi and Congolese, the music is also sourced from diverse cultures and is an integral part of this experience.
Children of the Sea has important stories to tell and these are often heartbreaking and fraught, but this show has moments of happiness, joy and unity and is ultimately an uplifting story of promise and hope. A very strong piece of theatre that is well worth experiencing.
Kimberley Shaw