Chitty Chitty Bang Bang
Music & Lyrics: Richard & Robert Sherman. Book: Jeremy Sams & Ray Roderick. Regals Musical Society. Rockdale Town Hall. May 1 – 16, 2015.
At its heart Chitty Chitty Bang Bang is a good old fashioned operetta with some sweet tunes and a prop that sends tremors through all but the most daring ofcommunity theatre groups.
Some of the more ambitious companies have declined to take the musical for a spin, fearing it too hard to do it justice in the slipstream of the professional season, that boasted the world's most expensive stage prop.
The Regals Musical Society took the right approach. The foundation of any operetta is a sumptuous orchestra. The conductor Alan Steedman duly provided this and steered the show at a brisk place.
Chitty Chitty Bang Bang itself certainly did not cost one million dollars to make. But it looked authentic and having a large prop pushed around the stage is something that felt right for a lush musical set in the early part of the 20thcentury.
What immediately gave it a lift was the video backdrop. Blissfully it relieved the company of having to build complex sets. The moving projection (ordered from a company in the US at a reasonable fee) transported the cast smoothly from the various scenes, ranging from the seaside to a factory to flying through the sky.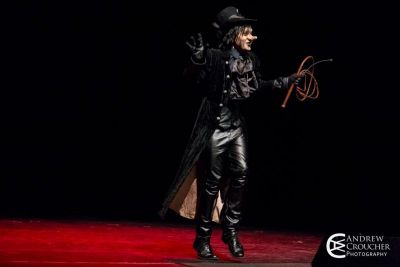 Having the vintage car tilt a little was enough to satisfy the illusion.
The lead roles were in safe hands. Regals' veteran Geoff Stone as Caractacus Potts and Alicia Jedrzejczak as Truly Scrumptious were likable in roles that are on the dull side. Brian McGann as Grandpa Potts and Peter Sampson as the Toy Maker were pleasing.
It's the baddies which are the fun parts. Stephen Halstead as Baron Bomburst and Melissa Stewart as his Baroness gave us lashings of ham, whilst Steve Woodhouse as Boris and Haji Myrteza as Goran got plenty of laughs.
But the stand out performer was Lachlan O'Brien as the Child Catcher. He looked sensational and brought back those haunting childhood memories of Sir Robert Helpmann in the original movie. The bright children's cast had fun taking their revenge.
The Regals Musical Society exceeded expectations for this production. It is a fitting production to jump start their 70thbirthday celebrations.
David Spicer
Photographer: Andrew Croucher