A Chorus Line
By Marvin Hamlisch, Edward Kleban, James Kirkwood and Nicholas Dante. Miranda Musical Society. Sutherland Entertainment Centre. September 21 – 25, 2011.
First impression as I settle into my seat is the audience reflected in the upstage wall of mirrors on the empty stage, enforcing the allegory of A Chorus Line. This is a show about everyone's dreams, not just a group of dancers auditioning for eight places in a musical theatre chorus.
That said, it is, of course, the ultimate backstage dance musical.
Can an amateur cast meet the challenges of A Chorus Line?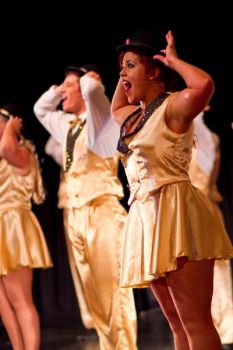 The skill set requires not only that everyone can dance, but for the show's finale to work they must be able to dance in absolute uniformity. More than that, to really work, A Chorus Line needs requires several absolute triple threat performers (acting, singing and dance skills).
The answer at Miranda is a clear yes.
Miranda Musical Society's cast has the skills and meets the challenges splendidly. I'm told that some cast members had little dance experience, however choreographer Simone Salle clearly devised universally achievable choreography for the crucial moments, while the strongest dancers selflessly restrained themselves for an impressive finale. The only factor which broke unity here was the obviously unconstrained hair of one performer. I hope someone is called in to assist her in the quick change at future performances.
The skills range really only apparent in the early ballet auditions, and here it felt fairly appropriate and acceptable.
This is a splendid ensemble cast, and reading the program there's some remarkable biogs – West End and other international professional careers, local professional experience and a wealth of high-level performing arts training.
I was tempted to simply offer praise for the fine ensemble company, but I will mention a few personal highlights.
Roslyn Howell's Sheila is deliciously brazen and brassy, yet she really digs deep for the vulnerability of At The Ballet. As Kristina in Sing, Ellen Bryant really nails the girl who can't sing and the interaction with her husband Al delightfully. Erin Bruce is a genuine triple threat, not only singing and dancing Cassie impressively, but delivering on the emotional and dramatic intensity of the role. The intensity of Paul's dramatic scene, as portrayed by Tim Watson, is powerful and engaging. As Diana, big-voiced Emma Paul delivers impressively on the range of comedy through emotion in her two big numbers. Jessica Rooney is bright and perky in Dance Ten; Looks Three.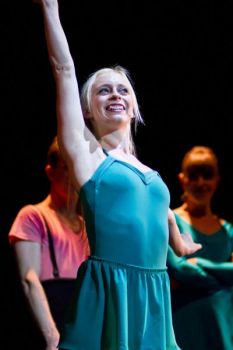 But the overall sense of ensemble, combined with delineated, clear character choices was probably even more vital.
Technically, Colin Peet's sophisticated lighting design, cleverly using pools, lighting and shade, and moving lamps, and the simple effective single setting by Colin, Bob Peet and Peter Munn combined beautifully felt just right. The cast are dressed in relatively timeless rehearsal gear – thankfully not a leg-warmer in sight.
With the band buried in a subterranean dressing room, the sound mix was tremendous and tightly controlled, except for a handful of solo lines in big numbers by smaller voices. Musically, the show is a real credit to MD Greg Jones.
On opening night there were a few minor technical and cueing issues, but in this technically sophisticated production, with a short bump-in, really they were very few, and it is the excellence and achievement that stands out strongly.
Congratulations to Gavin Leahy, who stepped into the director's shoes at late notice and also played the role of Zac, on a splendid evening of community theatre.
A Chorus Line, with its single setting, is a terrific fit for this venue with no backstage facilities, allowing a seamless production.
Neil Litchfield
Photos: Andre Moonen
To keep up with the latest news and reviews at Stage Whispers, click here to like us on Facebook, or follow us on Twitter.