A Chorus Line
Conceived by Michael Bennett. Book by James Kirkwood and Nicholas Dante. Music by Marvin Hamlisch. Lyrics by Edward Kleban. WAAPA. Directed by Crispin Taylor. Geoff Gibbs Theatre, WAAPA, Edith Cowan University, Mt Lawley, WA. Oct 13-15, 2020
WAAPA's biggest production of 2020 is being performed to a very exclusive audience in the Geoff Gibbs Theatre. Featuring the forty 3rd Year and 2nd Year Music Theatre students onstage, it highlights the talents of just as many Production and Design Students, is staffed by Arts Management Students and includes a plethora of students in the orchestra.
We are transported to the 1975 audition for the chorus line in an unnamed musical. Projections help establish the era, and Paris Fitzpatrick's mirrored set establishes the scene as the performers begin the iconic number "I Hope I Get It", facing away from the audience. Annie Reilly's costume design captures dance fashion of the mid 70s, with some lovely nods to character. Richard Timms' lighting design is emotionally effective - with sound well designed by Harrison Woodward.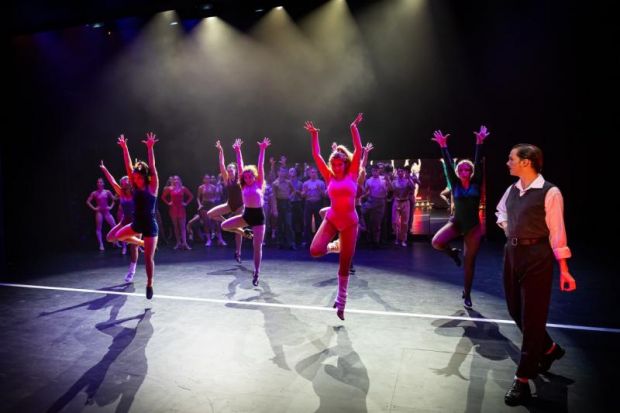 The opening number features the full cast, as they execute Jayne Smeulders dynamic choreography, as led by "in world" choreographer Larry - played with explosive energy by Liam Wigney. We meet "director" Zach, played with feeling by Jack Keen - whose questioning of his auditionees sets the premise for the show.
Campbell Braithwaite sets the standard for the show, performing the first solo number, "I Can Do That", with great aplomb. Other brilliant numbers include Giorga Kennedy's moving rendition of "Nothing" (as Diana Morales, a role she shares the role with Charlotte McInnes), and Lucy Fraser's (Val) gorgeous and very funny performance of "Dance 10, Looks 3".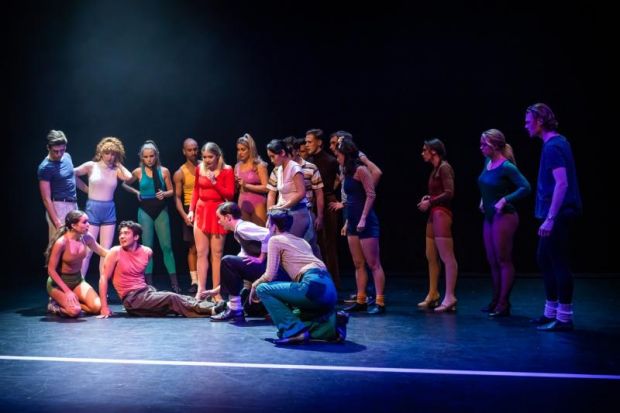 "At the Ballet" was a highlight, with heartfelt performances from Dierdre Khoo (Maggie), Louise Panogiotidis (Bebe) and Ruby Voss (Sheila). Jamie Smith and Hannah Royle showed lovely teamwork as newly married couple Al and Kristine.
Emily Wood brought lovely depth to the role of Cassie, establishing her history with Zach convincingly; Lauren Check gives oodles of personality to Connie Wong; David Duketis' energy as Ritchie is particularly impressive; while Jordan Tomlijenovics' portrayal of Paul is multilayered and heartbreaking. Great work also from Jack Martin (Don), Patrick Dibben (Greg), Aiden Hawke (Bobby), Tiana Catalano (Judy) and Douglas Rintoul (Mark).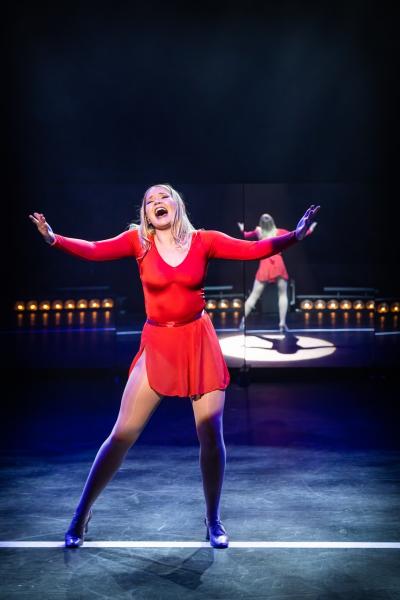 The finale is stunning, with superbly executed choreography and precision timing from the complete cast.
A Chorus Line, with its stories of the uncertainties of life as a performer and the struggles musical performers face, feels particularly pertinent at this time of great challenges in the world of theatre. Ultimately though this is a tale of hope, and the talent on show in this production gives us confidence in the futures of these performers about to embark on their careers.
Kimberley Shaw
Photographer: Stephen Heath