Christmas Actually
Created by Adam Brunes and Naomi Price. Featuring the music from the movie Love Actually. La Boite Presents The Little Red Company Production. Roundhouse Theatre, 27 November – 7 December, 2019 and Sydney Opera House, December 18 - 21, 2019
Between festival favourite Love/Hate Actually and the joyful and jolly Christmas Actually, there's been a whole lot of love for Richard Curtis' film Love Actually on Brisbane stages in recent years. This production is a jubilant homage to all of the wonderful songs in the much-loved Christmas cinematic perennial. The film is a balance of the ridiculously romantic and the harshly realistic sides of all kinds of loving relationships, with its opening monologue and dénouement feeling ultimately optimistic. The music of its soundtrack definitively mirrors those themes and as such takes one on an emotional rollercoaster of a journey.
Hilariously Christmas Actually opens in the same manner as Curtis' rom com, with star Naomi Price messing up a couple of takes just as Billy Mack (Bill Nighy) does in the film. She even includes the comical cascade of curse words before launching into a flawless rendition of Christmas Is All Around. Price is wonderfully supported by Stefanie Caccamo, Alex Rathgeber and Tom Oliver on backing vocals, and Michael Manikus on keys, guitar and keys by Scott French, Mik Easterman on drums and OJ Newcomb plucking the bass.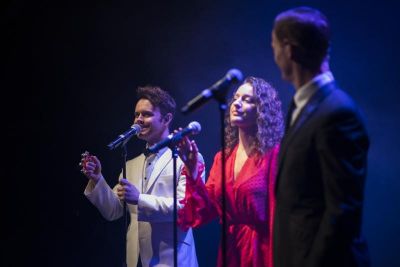 Naomi Price is undoubtably the star, with her charisma, great comic timing and outstanding singing. None the less, she's not afraid to step back and give each band member their chance to shine. Too Lost in You by Sugababes has excellent drumming by Mik Easterman. Tom Oliver gives the people in the front row a thrill with his hip-thrusting jazz interpretation of White Christmas. Michael Manikus shows elegant keyboard mastery in Glasgow Love Theme. Among dozens of other moments of guitar virtuosity, Scott French nails George Harrison's solo in All You Need Is Love. Alex Rathgeber has outstandingly passionate commitment to his emotional interpretation of Wherever You Will Go. Stefanie Caccamo mesmerises with her fabulous vocal tones in Here with Me.
Other highlights are almost too numerous to mention, and some shall go unmentioned so as not to spoil some hilarious surprises. The group outperforms the original with their emotionally charged rendition of Songbird by Eva Cassidy. There's some fun audience interaction in All You Need Is Love and you might need the tissues for the heart-wrenching Both Sides Now. The harmonies during the round at the end of God Only Knows are beautifully melodic. The show closes with a rousing, joyous version of All I Want for Christmas Is You, with the entire crowd singing and dancing along.
La Boite is wearing its heart on its sleeve this festive season with a two-week showing of Christmas Actually. So, if you enjoy the film and excellent live music, don't miss it. You're sure to leave the theatre with your toes tapping, your heart full, and a real sense of the true spirit of Christmas.
Kiesten McCauley
Photography by Dylan Evans