A Christmas Carol
By Charles Dickens. Adapted and created by Shake & Stir. Director: Michael Futcher. Shake & Stir Theatre Co and QPAC. Lyric Theatre, QPAC. 16-24 December 2020
Shake & Stir's acclaimed production of Charles Dickens' A Christmas Carol is the perfect show to welcome audiences back into QPAC's largest theater, the Lyric. Previously seen at the Playhouse, this grand little show has now been blown up to fit onto the Lyric stage. As it turns out, it has just been opened up a bit and sits quite comfortably on it. That means that Craig Wilkinson's brilliant state-of-the-art video projections now play an even bigger role in the production, as does Jason Glenright's moody and appropriate lighting. Josh McIntosh's clever design, which swiftly moves the action all over Dickensian London, has even more fluidity than it did on the smaller stages, and the ensemble cast brings comedic and highly physical life to a tight adaptation of Dickens' work by Nelle Lee.
Eugene Gilfedder is still the irascible and curmudgeonly Ebenezer Scrooge, who develops a bit of heart during the play. Gilfedder was gleefully mean and objectionable, and found a little bit of joy to dance about when he'd been redeemed.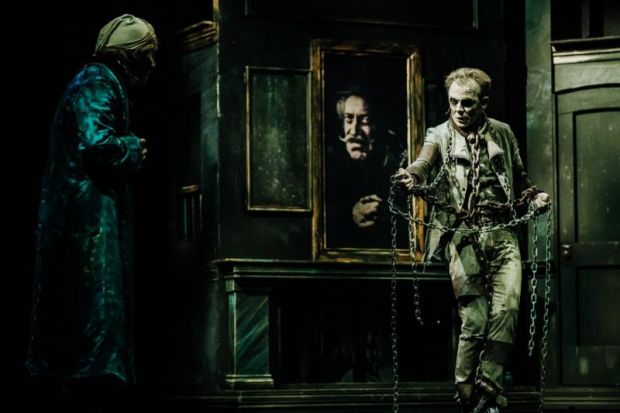 Nelle Lee wore many hats, but was most effective as Mrs Cratchit, likewise Lucas Stibbard as Scrooge's 'whipping boy' Bob Cratchit. He gave the character bucketloads of humility and warmth.
But the performance of the play was Bryan Proberts as Jacob Marley's ghost. Dressed as an Edwardian lady, he was pompous, quaint, and funny, appeared in many holographs, even a post-show encore at the top of the proscenium arch of the theatre. Gilfedder and Proberts worked well off each other which kept the comic quotient high.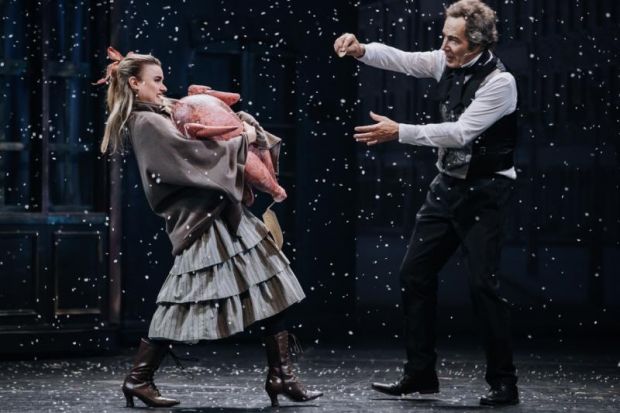 Salliana Campbell's on-stage musicianship, playing violin, provided a marvelously evocative musical London landscape of the period, with hints of klezmer, folk-dance, and carols in it. In fact the production opened with the cast around a brazier, warming their hands, singing Christmas carols with some nice harmonic arrangements.
Michael Futcher's direction was assured and tightly controlled, with just enough laughs and comic business to keep the show jolly and bright. As I said in my previous review of this production, 'there's no bah or humbug about it,' Shake & Stir have given us 'a theatrical bon-bon that's a Christmas treat.'
If Stage Whispers gave star ratings, I would award A Christmas Carol the maximum ⭐️⭐️⭐️⭐️⭐️
Like the annual Spirit of Christmas, it wouldn't be Christmas at QPAC without it. The enthusiastic audience response of a full house totally agreed!
Peter Pinne
Photographer: David Fell.