Cinderella
By Malcolm Harslett. Mighty Good Productions, SA. Star Theatres. Director: Malcolm Harslett. October 4 - 14, 2011
The Cinderella tale, done well, can introduce a new generation to the magic of theatre. And Mighty Good's production does just that.
Unless you skipped childhood, you know the story of Cinderella. The differences between the popular story and that told here are the addition of a couple of characters.
The first is Buttons (Vince Fusco), whose friendship with Cinderella (Tahlia Monaghan) provides her with relief from the cruelty of her stepmother (Dianne K Lang) and step-sisters.
The second is Cyril the Servant (Malcolm Harslett, and yes, a Cyril Servant!), whom the children in the audience love for his bumbling ways, shouting out instructions to help him find his lost glasses.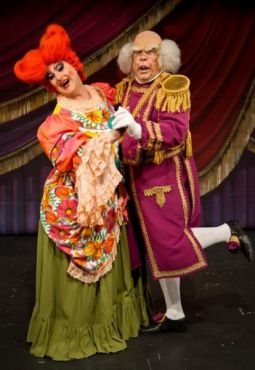 Whichever way you choose to look at this production, it's a success. The costumes are vibrant rainbows dancing across the stage. The sets have the elegance of a big-scale Disney production and not what you'd expect to find here.
As the ugly step-sisters, Richard Laidlaw and Tony Carpenter, are the standout stars, bringing to their performance a dynamism and trust that only comes from years of working together.
My theatre companion reports that her son serenaded her with one of the songs on the way home.
This production is an enchanting drawcard to reach out to children and keep them engaged in, heavens forbid, something cultural. It's magic.
Daniel G Taylor
To keep up with the latest news and reviews at Stage Whispers, click here to like us on Facebook, or follow us on Twitter.