CircUS
Presented by Flipside Circus. Judith Wright Centre of Contemporary Arts. 9 – 12 April 2014
Unleashed energy, agility, music, comedy – all non-stop from eleven performers, 10 to 17 years old.
Flipside Circus trains youths of school age to discover themselves and their capabilities through circus skills. The non-competitive activities encourage individuals to explore their own boundaries and, encouraged by their mentors and tutors, amaze themselves by bursting through those boundaries.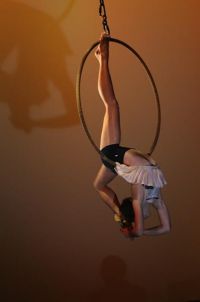 With a slogan like "Unthink the Impossible", what else would you expect?
Their show opened with the full company precision-tumbling, over, under, around each other, defying collisions. Just a warm-up. Three of the oldest performers used the youngest boy as a skipping rope, jumping over him, running under him, and taking over from one another in the routine without losing a beat. They tossed him, rolling in the air, caught him and threw him across the room to be caught in flight and tossed back.
Other routines involved spinning plates, group juggling with the same six balls, trapeze duo, swing trapeze, working from a suspended hoop (lyra), contortionist, tumbling and bouncing off a pilates ball to music, and the show-stopper: the youngest performer playing the audience like a professional while he mouth-synched "The Gambler" and the others, one at a time, dressed him in another piece of clothing.
Special credit to the person who chose the songs and tunes, many of which I had never heard before but several were obviously composed for specific circus acts.
Sheer entertainment.
Jay McKee