Cirque Africa
Adelaide Fringe Festival. Hindmarsh Square. 24th February - 3rd April, 2018
Cirque Africa's founding father, Winston Ruddle (Papa Africa) is the first black African in the world to own, direct and produce a circus show in a big-top tent. Dressed in a colourful kaftan he strolls centre stage to wind up the crowd, his booming voice gaining everyone's attention.
The thumping beats of drums and tribal acoustics can be felt through the floor. A company of performers dance their way into the tent with beaming smiles and infectious energy; a mean feat, given that for this matinee performance it must have been close to 40 degrees.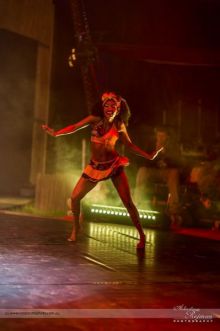 Cirque Africa began as an underground acrobatic school in Kinondoni in 2003. Since their humble beginnings they have gone on to train over 150 acrobats and dancers. Delighting audiences with a mixture of comedy, acrobatics, dance and contortionism, the troupe are clearly well trained in their chosen art.
Male and female acrobats are breath-taking as they use each other's bodies as platforms to spin through the air, demonstrating incredible strength and agility. One could only gawk at their accomplishments.
From balancing acts performed high in the air, to bowl and hoop twirling these talented individuals leave the audience wanting more. Adorned in colourful and abstract costumes, performers appear as though they are attending a celebration.
The soundtrack to this performance is relentless, injecting a spirited vibe that lasts the entire show.
This is family-friendly entertainment at its finest and with its long season, you must not miss this slice of Africa in little old Adelaide.
Kerry Cooper