CLOSER
By Patrick Marber. Director: Scott Major. Chapel off Chapel (Vic) Feb 14 -March 2, 2013.
How do we determine what is love and what is need, and how far will we go to get what we want? These are just two of the questions Patrick Marber asks in his award winning play.
Alice, a beautiful young stripper (Alinta Chidzey) has adopted a whole new personality which she thinks will attract a man who will love her; Dan (Scott Major) is a mediocre man, a user in need of validation who dumps his partner to pursue the beautiful Alice only to betray her. Anna (Claudia Greenstone), a successful photographer, is an observer of life, who doesn't fully understand what it is to be a participant and Larry (Leslie Simpson) is a doctor who can't shake his primitive working class urges, including the need for revenge.
They are all liars and cheats and Marber confronts us with their excuses and their lack of compassion and understanding. We may not like them (there's little to like) but uncomfortably we can all identify with at least one of them in their desperation and selfishness.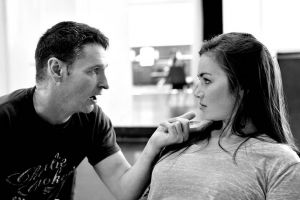 Under the deft hand of director Scott Major, this stellar cast more than does justice to Marber's biting cynicism and manages to capitalise on the comedy - black though some of it may be. He keeps the momentum going in a play which is essentially a collection of two hander vignettes about infidelity.
Newcomer to our shores Leslie Simpson needed about 15 minutes to fully settle into the role of Larry on opening night and from then on dominated his scenes. His sense of comic timing is impeccable and his facetious yell of "Well, Lucky Me!" made the audience wince even as it laughed, yet he totally understood the spiteful underbelly of a man scorned. He is a welcome addition to the local acting fraternity, and we can all look forward to his next appearance. Impossibly beautiful Alinta Chidzey infuses Alice with a sensuality and heart-wrenching fragility Natalie Portman could not quite manage in the film. It's a studied and manufactured sexuality by a girl who self-harms and is desperate to be loved. Dazzlingly talented, she won me as a fan in Chess, and I wonder if there's anything she can't do. Claudia Greenstone has a wealth of experience, all of which she brings to the role of Anna, a beautifully balanced three dimensional performance. And director Scott Major makes the weak and despicable Dan charming and persuasive, and completely convincing. His Line "You're not brave enough to let him hate you," is a poisoned dagger for all of us.
The simple minimalist set design by Sarah Ranken is perfect for the small space and Tony Johannsen's original music is the crowning touch. A splendid production all round.
Coral Drouyn