Cloudstreet
By Tim Winton. Adapted by Nick Enright and Justin Monjo. Glenbrook Theatre Company. Glenbrook Cinema. 20-28 May, 2022
Set in Perth between 1944 and 1964, Tim Winton's novel is the saga of the Pickles and the Lambs, two families who share a large house in one of the poorer areas of the city. The Pickles inherited the house, which is haunted by the ghosts of badly treated aboriginal girls whose spirits have been trapped there until "love and new life" comes back to the house.
The Lambs, evicted from their farm in Margaret River, move into one side of the house. Their rent, earned from a grocery shop they set up in a front room, saves the Pickles from poverty, but also gives Sam Pickles money for gambling and Dolly Pickles money for drink.
The Lambs are quiet and industrious, but suffer on-going guilt about their son Fish, who suffered brain damage after nearly drowning.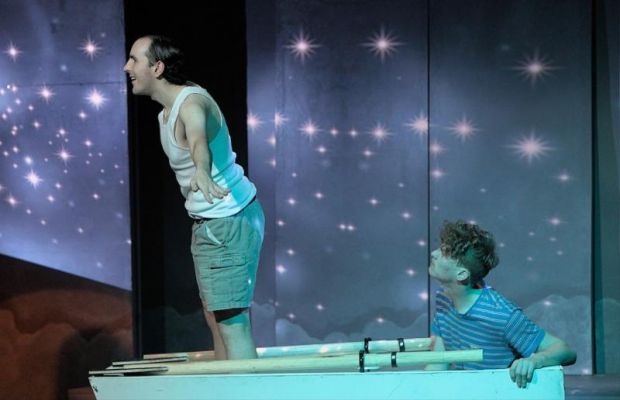 Winton uses the families to describe the many social changes that occurred post World War II in Australia. The adaptation, by Nick Enright and Justin Monjo, summarises their lives in an epic play, usually performed on two consecutive days – or over an afternoon and evening. Adapting the "trials and tribulations" of both families for the stage must have been a daunting task. Directing and managing the resulting epic is just as daunting.
Ainslie Yardley has assembled twenty actors to present forty characters in her edited version of the play that runs, with two intervals, for about four hours. It's a long haul for the cast, who have many costume and character changes, and the eleven backstage crew who manage several sliding flats, a boat, a tent and a lot of furniture on and off the stage in a multitude of scenes. Yardley and her cast and crew accomplish that long haul with enthusiastic energy.
Stage manager John Bailey and his assistant Gabriel Pope are to be congratulated for 'corralling' so many bodies and props backstage with smoothness and lack of fuss. Coordinating scenes changes and lighting cues is always tricky, but actors moving off stage in light can detract from character and effect. Apparent lack of that coordination on opening night may improve during succeeding performances.
Sam and Dolly Pickles, played by Madeleine Sheehy and Shaun Loratet, portray the less savoury aspects of family life. Sheehy's Dolly is loud and flashy, covering her insecurities with drunken flirtations. Loratet shows how easily Sam gives in to temptation and despair.
Sophie Seaborn and Matt Kelly are Oriel and Lester Lamb. Seaborn uses a steady gaze and firm voice to show Oriel's steely faith and righteousness. Kelly shows how Lester's gentleness and caring balances Oriel's severity.
Quick Lamb and Rose Pickles are the 'stalwarts' of the kids at One Cloudstreet. Through them the families' stories are told most clearly. It is Quick and Rose who eventually bring the family together and free the house of its sad spirits.
Max Jackson is constantly in character as Quick, taking him from childhood to fatherhood in a very appealing performance. His Quick reaches out to the audience with sincerity and consistency.
Mya Pockran shows how young Rose bears the burden of her dysfunctional family, bolstering Sam's depression, but disgusted by Dolly's drunken disdain and overt adultery. Eventually she finds some self-respect and independence in work as a telephonist.
Marianne Gibney-Quinteros, as an older Rose, carries that independence into a relationship that takes her to the more sophisticated areas of Perth, but she evetually returns to Cloudstreet where she and Quick find each other, unite the family and free the house of its past.
Through it all, Fish Pickles hovers, a disturbed being who is the only one who is aware of 'the ladies' who come to him at the piano in the 'windowless room' at the top of the house. This is a difficult role that Josh Stojanovic sustains convincingly, his eyes always looking beyond the moment to watery places only he can see.
Like other companies, Glenbrook has extended the epic nature of the play into a production 'package'. For a community theatre company that means extra organisation, coordination and a host of volunteers. For example, patrons are offered the opportunity of ordering a meal to be eaten in the long second interval. This is served in the adjoining hall where, under the curation of Robyn and Alan Pope, a collection of photographs donated by local families has been tastefully mounted and displayed. Along with a video of old news articles and advertisements, they depict weddings, christenings, family gatherings and the fashions of the twenty years during which the Pickles and Lambs inhabited number One Cloudstreet.
Ainslie Yardley and Glenbrook Theatre Company are to be congratulated for embracing such a major undertaking and doing it with such enthusiasm and efficiency.
Carol Wimmer