Cold Blood
Written by Thomas Gunzig. Adelaide Festival. Michele Anne De Mey, Jaco Van Dormael and Kiss & Cry Collective. Ridley Centre, Adelaide Showgrounds. 5-8 March, 2020.
In contrast to its perhaps-foreboding title, the team of Belgian artisans behind this spectacularly successful and satisfying show have created an experience that warms the heart, in sometimes strange but absolutely undeniable ways.
The accomplishment of ​Cold Blood​ is as remarkable as its presentation is audacious. For 75 minutes, the audience is invited to gaze upon moving images projected onto a screen, feature-film style – but this particular movie is being created live, with the participants/technicians pretty much always in full view (though never unhelpfully distracting).
Optical illusions and miniatures are brilliantly and ingeniously utilised (with their artificiality sometimes a source of wry humour), while occupying the spaces that they provide are a succession of moving hands and arms, standing-in for human bodies in motion. It could have been reminiscent of P​lay School​, but it works – fully and fascinatingly – as a unique theatrical experience.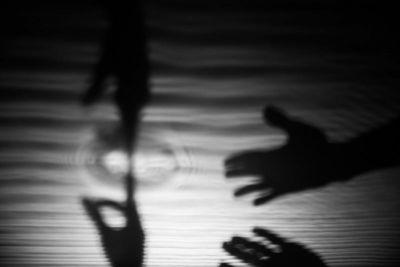 The method of delivery, however original, would ultimately not count for all that much if the content itself were uninspired or uninteresting – but Thomas Gunzig's script is endlessly intriguing, imaginative, and poetic (while being beautifully narrated by Toby Regbo).
If a major part of the Adelaide Festival's mission is to seek out inventive, innovative art and bring it to South Australian shores, then this objective has been thoroughly achieved with ​Cold Blood​.
Anthony Vawser
Photographer: Julien Lambert