Cold Light
Adapted by Alana Valentine. Based on the novel by Frank Moorhouse. Directed by Caroline Stacey. Produced by the Street at The Street Theatre, Canberra. Australian Premiere. March 3 – 18, 2017
This new production has debuted at The Street Theatre in Canberra. It is based upon the final novel in Moorhouse's trilogy which details the life, ambitions and loves of the fascinating Edith Campbell Berry. Alana Valentine's adaption of the novel is most entertaining, retaining the humour and drama of the novel while compressing the action into a marvellous narrative that compels the audience's attention.
The liberal freedoms that Edith (played by Sonia Todd) enjoyed in post-war Europe are sadly missing in Canberra, which is her next post with her diplomatic service husband Ambrose Westwood (played by Tobias Cole). Edith's intelligence and high-level experience seem to count for little in Canberra, where her hoped-for ambassadorship or leadership positions never appear.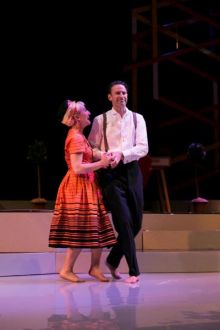 While dealing with sexism and the traditional constraints of the public service, Edith must also contend with the suspicions of men of the newly-formed ASIO when her Communist brother Fred (Craig Alexander) and his girlfriend Janice (Kiki Skauntzos) come into her life.
The direction of this play is a masterclass in how to best use acting and staging talent to create a gem. Sonia Todd brings effortless brilliance to her role as Edith. Tobias Cole shows Ambrose's despair at constraints and willful desire to break out into his own person, even to his own detriment. Nick Byrne makes a memorable character of George McDowell, and plays both Menzies and Whitlam at different points.
Costume design by Imogen Keen brings Dior's new Look centre-stage as Edith brings European chic to Canberra. Ambrose's delight in slips and dresses with sinuous fabrics, contrast with drab suits in the nation's capital. The play traverses the decades from 1950 to 1974 and key costumes signal the changes.
The set design by Maria T. Reginato is fluid and changeable, with homage to Mondrian and a distinct post-war Canberra flavour of decoration. Lighting design by Linda Buck plays an integral part of the narrative, drawing the eye this way and that, evoking moods from the dinner party to the bedroom. A constant is Marion Mahony's map of Walter Burley Griffin's design of Canberra.
This is a most timely production that asks where women's abilities and gifts can be used when there are barriers, and how society deals with people who do not conform to gender or status roles.
Rachel McGrath-Kerr
Images: (top) Craig Alexander as Trevor Gibson and Sonia Todd as Edith Campbell Berry, and (lower) Kiki Skountzos as Amelia/Tobias Cole as Ambrose. Photographer: Shelly Higgs.