Come From Away on Apple TV
Book, Music & Lyrics: Irene Sarnoff & David Hein. Director: Christopher Ashley. Music Staging: Kelley Devine. Music Supervisor: Ian Eisendrath. Streaming Apple TV from 10 Sep 2021 (1hr, 46mins)
Since it opened on Broadway in 2017, Come From Away has picked up Tony and Olivier Awards, a book of rave reviews ('Broadway's biggest and best surprise of the season'), and a slew of admirers, thanks to director Christopher Ashley cloning his Broadway production around the world.
This musical about 38 flights grounded in the small Canadian town of Gander, Newfoundland, Canada, on 9/11 has even been embraced by audiences who normally 'don't love musicals'. It's a docu-musical based on true events when the two-policeman town of Gander, Newfoundland, Canada had its normal population of 9,000 swollen by 7,000 'plane people' whose planes had been diverted following the closure of American airspace on 9/11.
The writers, Irene Sankoff and David Hein, both Canadian, interviewed the 'come from away' people when they returned to Gander on the tenth anniversary of 9/11, and from those interviews sprang the seeds of the musical. It was originally developed as a Canadian Music Theatre project in 2015, finally hitting Broadway in 2017.
On the 20th Anniversary of 9/11, Apple TV started streaming a filmed 'live on Broadway version' of the musical. It will be the first show to resume performances at the Gerald Schoenfeld Theatre, on Broadway after lockdown on 21 Sep 2021 (all audience members must be fully vaccinated and wear masks).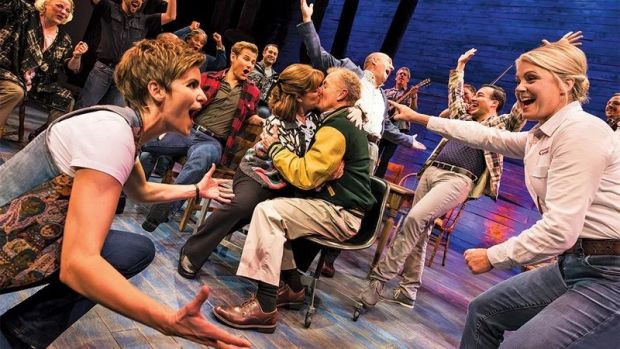 The cast of 12 play 40 characters on Beowulf Borott's set of stark tall trees and rustic wooden furniture set on a revolve. They move chairs and furniture around as they tell the story, and sing the score of songs that are a folk-rock meets Celtic mix accompanied by a seven-piece band of musicians whose instruments include, Bodhran, Uilleann Pipes and fiddle. It's a very Irish sound and Kelly Devine's Riverdance-type movements are a perfect fit.
Of the 12 cast members, there are seven returning from the original cast. There was talk some time ago that a filmed Hollywood version was in the works, but due to Covid restrictions and the wholesale shutting down of Hollywood, the producers opted to film the Broadway cast live a-la Disney with Hamilton.
The film is a compelling document, honestly performed, and thankfully preserves the original cast performances (those still in it) for posterity. Not that there's much difference between the Broadway, London or Australian casts. They all do a splendid job, but it is good to see Jenn Colella repeating her original role of Beverly, the American Airlines pilot whose back-story of how she fought her way up the male-dominated career path is one of the show's highlights, along with Joel Hatch's Claude, Astrid Van Wieren's Beulah, Petina Bromley's Bonnie, Sharon Wheatley's Diane, Q Smith's Hannah, the mother of a New York City firefighte, and Caesar Damoyoa's Kevin J and Ali.
Peter Pinne