The Comedy of Errors
By William Shakespeare. Presented by the Australian Shakespeare Company. Directed by Glenn Elston. The Royal Botanic Gardens, Melbourne. December 18th to February 19th 2022.
This is one of Shakespeare's earlier works and it provides plenty of opportunity for unbridled silliness and rollicking physical theatre. Glenn Elston has chosen to use the Commedia Dell'Arte box of tricks including stock characters, masks, exaggerated costumes and Punch and Judy slapstick to bring this tale of twins separated early in life to the stage.
The strong cast breathed life and heightened energy into the characters and competently carried the many misunderstandings and mishaps through to the restitution of missing property and an entirely satisfying family reunion.
The twin masters, Antipholus of Ephesus (Peter Houghton) and Antipholus of Syracuse (Hugh Sexton) were dressed and masked identically with strong clowning influences. Their orange wigs and mop shoes were a particular triumph. They portrayed each character with just enough difference to enable the audience to track their comings and goings. Their servants, Dromio of Ephesus (Thomas Pidd) and Dromio of Syracuse (Syd Brisbane) both had many a pratfall and their portrayal was satisfyingly physical.
The pairing of characters continued with Duke Solinus of Ephesus, played by Kevin Hopkins, on stilts and he projected the power of the law in contrast to the Officer, Ruben Francis, a person of short stature, who carried the practical day to day enforcement of the law in his baton which he used to good effect.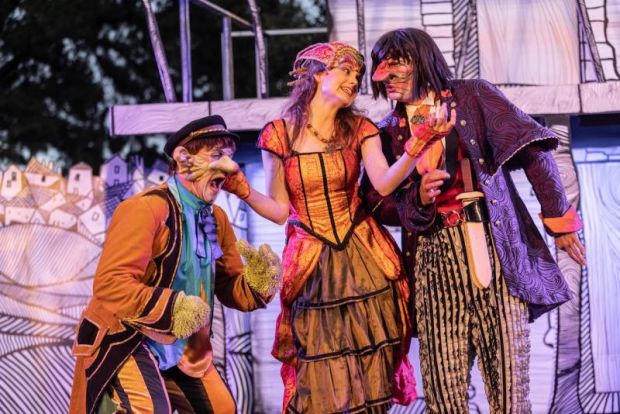 Adrianna, the wife of Antipholus of Ephesus (Elizabeth Brenan) and Luciana, her sister (Madeleine Somers) stayed well away from the shrewish and created likeable characters the audience could invest in. They had extra fluidity added by roller blades and their motion added considerable drama and humour. Luciana's attempt to 'recover' was one of the memorable moments of the performance as was Antipholus of Syracuse's attempt to insert a key into the large lock she wore around her waist.
The supporting characters were richly played by Claire Duncan, Anna Burgess and Maverick Newman, Tony Rive and Fabio Motto. Each had their moment to shine and they shone brightly.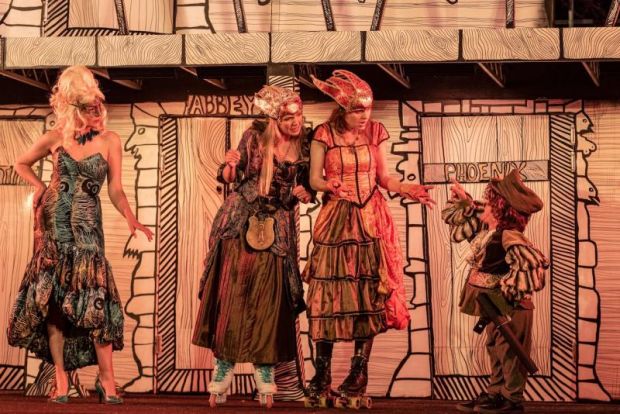 The stage and wings created a theatre-like space. It was decorated with dreamlike (tending towards nightmarish) line drawings. There were multiple side exits which were used to keep the movement of the play romping along. A second story veranda was also used to good effect.
The costuming was imaginative and colourful. The rich costumes were paired with exaggerated masks and make up.
All of which showcased the extraordinary language of Shakespeare in a physical, energetic, funny and emotionally satisfying performance.
Ruth Richter
Photographer: Ben Fon