Conchita Wurst & Trevor Ashley In Concert
Featuring Kate Miller-Heidke. Concert Hall, Queensland Performing Arts Centre, Brisbane, 26 February, 2020
Mardi Gras fever hits Brisbane with Australian and Austrian Eurovision and cabaret royalty together on stage for one glam-tastic evening of entertainment, celebrating friendship, diversity and the power of pop!
When Aussie cabaret star Trevor Ashley met Eurovision winner Conchita Wurst, the two became instant friends, bonding over their love of sequined star turns and the belt-out ballad. In this tour (with such an unimaginative title, given the divas of possibility!) they perform with the added oomph of high-calibre orchestral backing. In Brisbane, they are joined by conductor Michael Tyack and the superb 38-piece Camerata Queensland Chamber Orchestra – truly the best way to hear the hits live. And of course there is a special appearance by local legend, Kate Miller-Heidke.
The show of greatest hits and duets is opened by Trevor Ashley belting out the gutsy 'Rain on my Parade' and a string of diva pearls from his much-loved cabaret repertoire, featuring Barbra Streisand, Dusty Springfield, and Judy Garland, really hitting his stride with Dame Shirley Bassey. Ashley mixes up a blend of musical theatre tinged with tribute. It's completely different to Conchita's use of her stage persona – an interesting juxtaposition of contemporary drag diva expression. As Conchita takes to the stage, the tempo dials down with 'Where do I begin', an emotional rendition of the Love Story theme, followed by the Middle Eastern-spiced and disco-drenched 'Out of body experience' and grungey 'Purple Rain' cover, featuring a stirring and crowd-pleasing electric solo by Camerata's lead guitarist, Stephen Ward.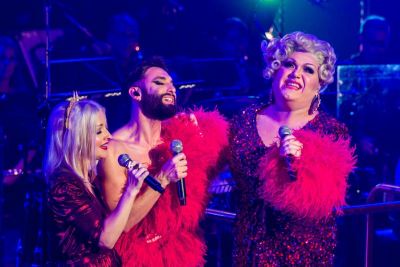 The pair duet on a variety of smash hits before introducing Miller-Heidke. Given the billing, many may feel frustrated at a flimsy two tunes from the beloved local diva. 'Where?', the song from her opera, The Rabbits was slightly out of step with the cabaret vibe, but the stylus was well and truly back on Eurovision groove with 'Zero Gravity' which inspired a rousing standing ovation from an admiring crowd.
Overall, the strength of the material satisfies in a mixed bag of sweets, with lots of sonic treats. 'Australian Mardi Gras and Cabaret meets Austrian Eurovision royalty' – is a theme that could have strengthened a sense of cohesion. But, like Ashley's sequined platform shoe that kept sliding off, sometimes the pace stumbled. Kate's guest appearance was not as well integrated as it might have been. After the standing ovation (which could have ended the show) the energy ebbed, and Conchita and Trevor had to shake their glitter and feathers to get back on track – but Ashley's version of Adele's 'Skyfall' worked wonders, and the diva's duet on 'Diamonds are Forever' returned the sparkle. And of course, Conchita's smash Eurovision hit, 'Rise Like a Phoenix' had the audience returning to their feet.
The songs are energising and the personality and warmth of the performers inspiring. It's nice to see a show where the performers connect with their audience. I love Kate's quip about the new drag queen in town called 'Zero Dignity' and Conchita's charming stories about discovering the joys of affordable fashion in the local Target store. But, please, will someone tell her, it's 'Tar-jey', darling!
Trevor and Conchita continue their tour in Sydney on 27 February and Melbourne on 28 February. Kate is their guest for both concerts.
Beth Keehn
Photograopher:Darren Thomas
Find out more: