Confessions of a Mormon Boy
By Steven Fales. Midsumma Festival. February 7 – 9, 2020
An international one man show - Confessions Of A Mormon Boy - a true story, has returned to Australia for the Midsumma Festival. It's performed and written by Steven Fales, who exudes a charming stage presence, matched with a big cheesy smile and loads of gay Mormon pride.
The story begins with an audio recording of his five-year old self - singing. He tells us "Mormons record everything", going on to say "that as a child I was so effeminate l bullied myself." He is clever, witty and just loves to mock himself. He spent years performing across the States in countless Shakespearean productions and is eloquent, defiant and persuasive.
As an Elder, he was sent to Portugal on mission work, where he fell in love with a male acquaintance. His first homosexual sexual experience comes as a freshman at BYU University in Provo, Utah. He spends years in Mormon Conversion Therapy, gets married and has two kids but is still unhappy despite his "happy" façade. He sings a childhood song, "The smiling Mormon must hide their frown away…."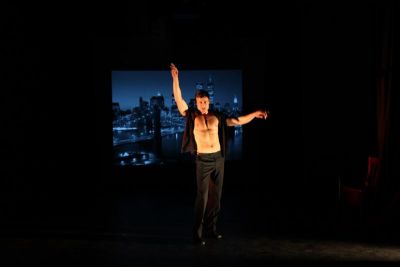 He tells us he became expendable and was excommunicated by his church. His "understanding" wife was tolerant, her father was also gay and his mother–in –law, Carolyn Pearson, a Mormon feminist, had written a book about her gay Mormon ex-husband. He found it a useful self help guide. Despite his immediate progressive family ties, he remained a "tightly coiled homophobic homosexual".
Fales packed up and moved to Manhattan, leaving the sting of Salt Lake City, Utah (Mormon capital) behind him. He nourished his inner demons by working as a high-end gay escort. His stage performance takes a feisty turn into gay raunchiness, followed by an unexpected twist that has the audience aghast yet eager for more. He battles with his narcissistic personality disorder and feels he is just a "broke back Mormon". Everyone laughs. He decides to journey back to the Wild West to reconnect with his founding father.
This is a gripping piece of solo theatre. Fales is an exceptional talent who delivers an honest, vivid and animated performance as he takes us through his amazing and sometimes harrowing life. He caps off the show addressing his heavenly father by thanking him for life.
Flora Georgiou
Photographers: Carol Rose and Dave White.