Constantina Bush: Ride the Night Train
Constantina Bush (aka Kamahi Djordon King): Lead vocals. Eduardo Rodriguez (aka David Spry): Band Manager and Percussion. The Night Train band members: David Spry (vocals), Maia Bedggood (vocals) and Prayer Corby (vocals). Sarah Heffernan: Horn. Nick Yates: Saxophone. Mark Smith: Drums. Tom Jones: Bass. Aden Mackay: Guitar. INPEX Sunset Stage, Festival Park, Darwin. 22 August 2021. Darwin Festival.
I first had the privilege of discovering Miss Constantina Bush a decade ago at the celebrated (but now sadly defunct) Red Bennies on Chapel Street, Melbourne. The show – 'Constantina Bush and the Bushettes' – heralded the arrival of the supremely talented Miss Bush, whose irreverent tales from the outback (or Katherine to be more precise), were affectionately shared with her captivated crowd. There were (from my hazy memory), humble stories of her beloved Aunties. There were stories about the multilingual complications that arise when speaking English and Kriol, that while not a traditional Indigenous language, is the second most common language spoken throughout the Northern Territory.
So, ten years later, what might have changed? In a word, everything.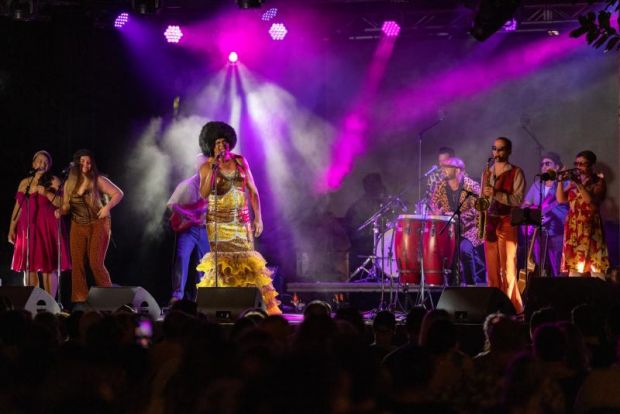 Constantina Bush is now the consummate Diva – a beyond glamourous, impatient Showgirl who keeps her audience waiting, while the sensational The Night Train band riffed on the ear-worm-inducing 'Constantina' for what seemed like an eternity. Once Rodriguez had undertaken a desperate search of the perimeter of the vast parkland in which the INPEX Sunset Stage rests, it almost appeared as though the show would not be going ahead. And then, almost with a kind of wearying fatigue, Constantina finally appeared. It was a delicious conceit, and from there on in, she and the brilliant company of musicians and vocalists on stage with her, hit the accelerator.
The Night Train band sounded simply gorgeous all night – a luxurious sound only possible when the musicians at play are the top of their game. David Spry's original songs were lushly orchestrated and musically supreme – and I predict 'Rolling with you', with all the soul, structure, function and pizzaz of truly great standard, will be covered more than once if enough singers discover it.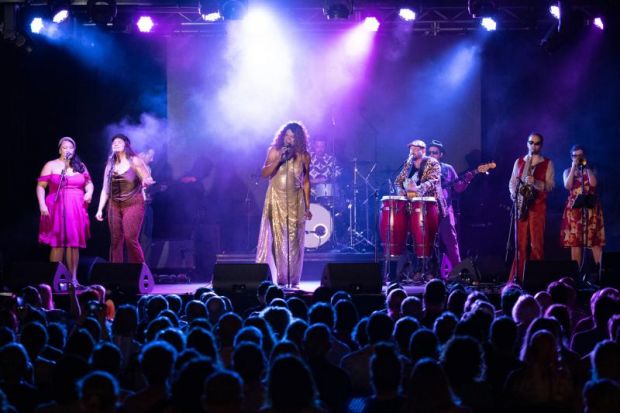 Miss Bush still flirts with the concept of humility (and most of the surrounding bar and security staff), but only for as long as it suits her. She still balances a playful innocence with a sweet-natured naivety, but over the years since I saw her last, she has developed into a fine blues singer and a razor-sharp comedic assassin, gently and generously engaging with individual audience members, before seemingly becoming bored with the whole pretence and launching into yet another of Spry's showstoppers 'The Night Train'. And while the joke about the Indigenous woman winning Lotto is not only the kind of joke that Constantina could get away with telling, it was also perfectly delivered – the comedic equivalent of a poison dart.
Constantina Bush: Ride the Night Train was an exceptional finale to this year's Darwin Festival, and it sent me off into the night home with my soul replenished and my heart singing.
Geoffrey Williams
Pictured: Constantina Bush: Ride the Night Train. Photographs courtesy Foldback Magazine.