Counting and Cracking
By S. Shakthidharan (Aust.). Adelaide Festival. Belvoir & Co-Curious. 2019 Adelaide Festival. Ridley Centre, Adelaide Showgrounds. 2 – 9 March 2019
Two of our reviewers, Anthony Vawser and Tony Knight, caught one of the hightlights of this year's Adelaide Festival.
When nearly-three-hours of stage time simply flies past, you know that a play has been faultlessly crafted. When its concluding passages culminate in an image that is so perfect you are left breathless with admiration, we're talking about a theatrical experience that is truly special, perhaps even deserving of being described as a must-see.
Described as an 'epic story' in the playbill provided to patrons, Counting & Cracking fully earns the description. Playwright Shakthidharan has woven a brilliant and beautiful tapestry of characters, nations, and timelines. The script has strongly political points that it succeeds in making, while always maintaining believable characterisation and credible storytelling.
The wonderful journey that this production takes its audience on is facilitated by a remarkable ensemble of sixteen performers, the majority in multiple roles. Characters' national identities range from Sri Lankan to Turkish to Israeli to Indigenous Australian. It is a delightful surprise - and an honour - to find that both stars of Jacques Audiard's Palme-d'Or-winning film Dheepan,Antonythasan Jesuthasan and Kalieaswari Srinivasan, are part of this exceptional cast.
Eamon Flack directs faultlessly, maintaining clarity and pace from start to finish, never losing our interest even at moments where we may might have felt overwhelmed by the number of different people and threads to keep track of. Set design is elegantly evocative and adaptable; live music and sound effects are absolutely enchanting.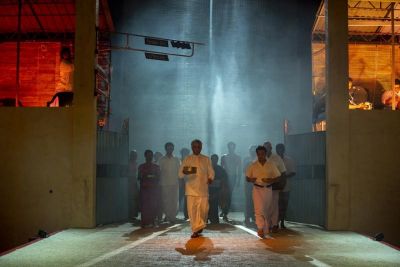 Counting & Cracking, with its keen understanding of family dynamics and family love (regardless of culture or country of origin), its acknowledgement of the complexity encompassed by our modern world, its empathy for those whom our political leaders would rather keep out of sight and out of mind, is Australian theatre at its best, and Adelaide Festival-goers are truly privileged to have the chance for witnessing such an achievement.
Anthony Vawser
S.Shakthidaran's Counting and Cracking is the best new Australian play and production since Andrew Bovell's The Secret River.
Imagine this - an audience of basically 'white' middle-aged to senior Australians cheering a Sri Lankan refugee who is joining a group of 'boat-people' in order to get to Australia? That's right - cheering for 'boat-people'! Well - this actually happened when I attended this truly great piece of theatre.
This reaction is part of the reason why Counting and Cracking is so extraordinary, and a 'not-to-be-missed' theatre event.
The play is a story about being a member of family, experiencing this family's nightmare of being broken apart through intolerance and distance, and the reunion that only occurs in the final moment of this 3-Act work. It is a deeply and profoundly human and humane, moving story, brilliantly told by a truly great ensemble of performing artists.
The journey begins with Siddhartha (Shiv Palekar), a young Australian man of Sri Lankan descent, reluctantly dispersing the ashes of his Sri Lankan grandmother in the Georges River in Sydney. He is being made to do this by his formidable mother, Radha (Kalieaswari Srinivasan). We learn that 21 years ago she fled to Australia, heavily pregnant with Siddharta, escaping from the violent Sri Lankan Civil War. Her husband, Thirru (Antonythasan Jesuthasan), a Tamil engineer, was missing presumed dead. However, Thirru is not dead but has been locked up in a Sri Lankan prison where he has been severely and maliciously beaten and tortured. A Sri Lankan journalist friend, Hasanga (Nicholas Brown) has found him and arranged for his release.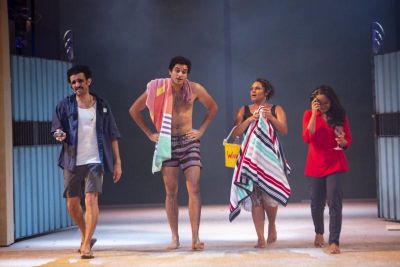 Thus begins this epic two-level story that is told partly through flashbacks and partly in present time. We experience the drama of a family torn apart by the extremely violent Sri Lankan Civil War in which Radha's illustrious Tamil grandfather, Apah (Prakash Belawadi) was a prominent and outspoken member of the then Sri Lankan government. We also witness the dangerous journey that Thirru undertakes to be reunited with his family in Australia.
The majority of Act 2 and Act 3 is taken up with story of the young Rahda (Vaishnavi Suryaprakash) and how she is forced to flee Sri Lanka. In Act 2 during a Sri Lankan wedding that is interrupted by the political circumstances surrounding them, Rahda confronts the politicians, forcing them to say, 'Weddings are more important than politics!'. 'Family' is more important than politics.
This is a universal truth that we can all relate to and empathise with. Watching the respective members of this Sri Lankan-Australian family fight against and survive the invasive and destructive political circumstances that envelope them is watching a triumph of the human spirit.
There are so many moments in this production when tears openly flow from the audience. In particular, the climax of Act 2, where the desperate Thirru, fleeing for his life, decides to join a group of 'boat-people', whilst his Australian family beg him on the phone not to do it. It is a magnificent moment of truly powerful, great theatre.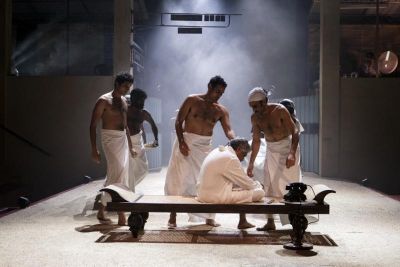 The lights went down and the audience cheered.
Counting and Cracking is a complete triumph in so many ways. Born from a collaboration that began several years ago between S. Shakthidharan from Co-Curious Theatre Company and Eamon Flack from Belvoir Street Theatre Company in Sydney, this exceptional piece of theatre is one of the highlights of this year's Adelaide Festival.
It brings together a truly international ensemble of creative artists from all over the world, including Australia, Sri Lanka, India, France, Bangladesh, Malaysia, and New Zealand.
Full credit and praise must be given to S. Shakthidharan and Eamon Flack, and the creative team, which includes Dale Ferguson (Set and Costumes), Damien Cooper (Lighting), Stefan Gregory (Composer and Sound), Nigel Poulton (Movement and Fight Director), and Linda Nicholls-Gidley (Accent Coach). I mention Ms. Nicholls-Gidley's contribution because this story is told in numerous languages including English, Tamil, and Senegalese – another triumph.
Then there is the wonderful international cast of actors, some of which are major 'stars' in their respective countries. I am going to list them all because they all deserve to be acknowledged – Prakash Belawadi (India), Monica Kumar (Australia), Rajan Velu (Australia), Nicholas Brown (Australia), Gandhi MacIntyre (Australia), Sukania Venugopal (Malaysia), Jay Emmanuel (Australia), Shiv Palekar (Australia), Vinod Prasanna (Australia), Rarriwuy Hick (Australia), Monroe Reimers (Australia), Arjunan Puveedran (Australia), Antonythasan Jesuthasan (France), Arky Michael (Australia), Shenzo Gregorio (Australia), Kalieaswari Srinivasan (India), Nipuni Sharada (Sri Lanka), Ahilan Karunaharan (New Zealand), Vaishnavi Suryaprakash (Australia).
This is an artistic collaboration like no other in recent Australian theatre and is something to be celebrated, cherished, and praised to the highest – truly groundbreaking and magnificent theatre.
Buy, beg, or borrow – but a get a ticket to this 'not-to-be-missed' production of Counting and Cracking.
Tony Knight
Photographer: Brett Boardman