The Crucible
By Arthur Miller. Sport For Jove. Bella Vista Farm Park, Bella Vista, and Everglades Gardens, Leura. Director: Damien Ryan. 12th December 2014 – 25th January 2015.
There's no doubt that Sport For Jove create great theatre. More importantly, however, they create great experiences. If you attend one of their shows (and you should), expect a night of entertainment in the truest sense of the word. While the company is not exclusively an outdoor company, site-specific outdoor entertainment is where they began, and where they excel. Director Damien Ryan's latest offering, The Crucible, which is running concurrently with A Midsummer Night's Dream as a part of the Sydney Hills Shakespeare in the Park Festival and will move on to The Leura Shakespeare Festival, is no exception.
Upon arrival, we were greeted by a cheerier-than-usual Judge Hathorne (played by Christopher Tomkinson) who welcomed us to Salem. Although not, of course, before checking we had not indulged in witchcraft. He then instructed us on how the evening would unfold. People management is an essential aspect of any production held outside of a traditional theatre, and it is something Sport For Jove handles very well. It is often necessary for actors, and the director, to break the fourth wall in order to communicate with the audience. We've all seen this done by less skilled actors with disastrous and frankly cringe-worthy consequences. Such is not the case here. The company as a whole moves seamlessly between scripted dialogue and moments of crowd organization. The start of the production was signaled by a tour of Salem. This started off feeling a little like a school excursion to Old Sydney Town, with actors scattered across the park, going about their character's daily activities. Upon entering the Homestead, however, it was clear a much more theatrical event was taking place, as the audience was led through a real-life episode of American Horror Story: Coven.
Miller wrote The Crucible to illustrate that a witch-hunt can take place in any time, in any place, and as such the play has an endurance and a longevity which sees it played again and again. Ryan writes in his director's notes of the contemporary parallels that can too easily be drawn from the text – Bradley Manning, the 'children overboard' crisis, Anwar Ibrahim. Despite not having the authorisation to update the play's setting, Ryan states he doesn't feel the need, and he is right in that. The message of the play is loud and clear, and resonated fully with the watchful audience on opening night.
This production of The Crucible plays with fire and water, literally and metaphorically. The first few rows may get wet, and at times it is unclear whether the liquid is indeed water or the actor's sweat. Either way, that's the sign of a great night at the theatre. The live elements of both fire and water are used cleverly to provide an aesthetic vision, a sensory delight and a visceral experience. The only potential negative to be found in this production comes from the element of danger. While I've no doubt Sport For Jove has done all the right things to protect their performers, their audience, and their heritage listed buildings, the thick full-length costumes dancing across lit candles regularly results in the audience being pulled out of the world of the play momentarily. There were occasions where an audience member would gasp and, for a split second, see the actor in potential danger rather than seeing the character so well-crafted by these performers.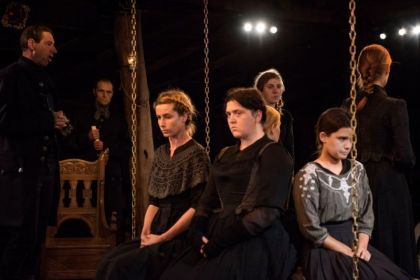 Speaking of performers, it is difficult to pinpoint standouts, as this is truly an ensemble production, with many of its performers also playing in rep with A Midsummer Night's Dream. Julian Garner as John Proctor, Georgia Adamson as Elizabeth Proctor, Lizzie Schebesta as Abigail Williams, Matt Edgerton as Samuel Parris, and Anthony Gooley as Reverend John Hale, all gave outstanding performances in highly demanding roles. Michelle Mckenzie as Mercy Lewis and and Annie Byron as Rebecca Nurse must be mentioned for adding delightful moments of humour to an otherwise dark play. It is a shame not to be able to mention the entire cast, however, as each and every performer had their purpose and contributed strongly.
The design elements of the show work well together to create the world of the production. Sian James-Holland's lighting is subtle and effective. The majority of the floor lighting is supplied only by candles, and the rest of the lighting is primarily birdie lights – providing an authentic seventeenth century feel. Anna Gardiner's set is functional, beautiful, and more complex than it initially appears. Her costumes blend contemporary and costume elements together to create a traditional, yet striking look. The sound design by David Stalley is haunting, evocative, and incredibly effective. Walking out at interval to discover the grounds were in fact not wet from rain was quite a shock!
Unlike previous productions held at Bella Vista Farm Park, the majority of The Crucible takes place in a relatively traditional setting, with tiered seating and a thrust stage inside a barn. If you abhor the thought of missing out on the outdoor theatre picnic experience, the best advice is to arrive early, claim your seat, and then spend some time picnicking on the grounds of the park before taking your seat to watch the show.
The Crucible runs from the 18th – 30th December at Bella Vista Farm Park, and the 11th – 25th January at Everglades Gardens, Leura. Tickets are $32, and available at www.sportforjove.com.au
Jessica Lovelace
Photographer: Seiya Taguchi