The Curtain
By Daniel Keene. fortyfivedownstairs, 45 Flinders Lane, Melbourne. 26 February – 15 March, 2020
Daniel Keene's writing is always intriguing, most particularly because his characters and their issues are so acutely realized. He distils day-to-day life and brings us his own unique 'poetic realism' that proffers subtle, perceptive, poignant and thought provoking insights.
It seems, to me, that this work is about when the everyday meets the 'shadow.' Where the sudden announcement of life changing intentions throws light onto what has tacitly been ignored.
Two older gentlemen are boarding in a house owned by a widow. They have a way of rubbing along together that is functional though not necessarily particularly comfortable. Their communication is somewhat stilted. Wittily they reference Absurdist Theatre, whilst they are 'waiting for their landlord' to return home. As with much of Keene's writing, we are reminded of Samuel Beckett.
The landlady is 'foreign' and in actual fact rather exotic, we realize, when we finally meet her in an inebriated state, and flagrantly, getting drunker.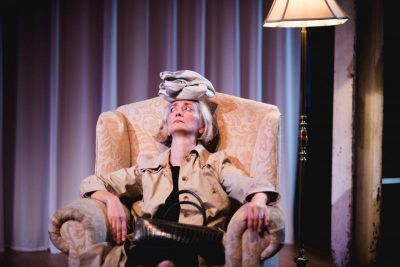 The Curtain is about aging, loss and unrealized dreams. It is also about the very personal, self-inflicted, misery that could be attributed to having unflinching expectations despite aging and changing times. As it turns out, neither of the men appear to have been looking beyond the immediate so their lives could, quite likely, spiral out of control if their landlady makes the changes she so suddenly plans to execute.
The décor (Andrew Bailey) is of the 1960s, as is the often delightful and subtly faded in music (Ben Keene). There are literal curtains, on set, as well as the symbolic curtains that hide and/or reveal and bring things to a close.
The casting is spot on and Milijana Čančar really shines as the landlady. Gill Tucker and Paul Weingott work very nicely together to convey their edgy somewhat competitive relationship. The direction by Beng Oh is most simpatico with the text.
Another exemplary production to catch at fortyfivedownstairs.
Suzanne Sandow
Photographer: Theresa Harrison.
Credits
Director: Beng Oh
Performers: Milijana Čančar, Gil Tucker, Paul Weingott
Sound Design: Ben Keene
Lighting Design: Lisa Mibus
Set & Costume Design: Andrew Bailey