Cut Snake
By Paige Rattray, don Giovannoni and Amelia Evans. Arthur & Tamarama Rock Surfers. Bondi Pavilion Theatre. March 12 – 23, 2013.
There is something delightfully joyous and fun about the simplicity of this production - Cut Snake. It's reminiscent of a gang of kids playing in the backyard, conjuring up stories, waving a wand and SHEBANG - putting on a show!
Meet Jumper (Kevin Kiernan-Molloy), Kiki Coriander (Catherine Davies) and Bob (Julia Billington), a rag tag trio of schemers. We watch them grow up, chase their dreams, learn to find love and discover how to deal with sudden death. The style of the show - think vaudeville, circus, acrobatics, with a bit of fantasy thrown in for good measure - is perfect for moving the story forward and surprising the audience along the way. And although there are some deeply poignant moments, the absurd nature of the storytelling also makes for some genuine belly laughs.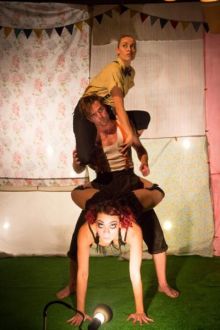 Paige Rattray directs the trio of actors around the small space in an engaging, interesting and exciting way. She leaves no stone unturned in how she harnesses her cast's physicality to portray their characters, which at times results in some captivating images. The actors each in turn are excellent and rise to every challenge set to them. Special mention must go to Tricks the performing snake - who knew a sock puppet could make me giggle with glee!
The design is also very clever with it's mis-matched sheets pinned together with clothes pegs for a backdrop highlighted by homemade bunting, an astroturf floor and an eclectic collection of lamps scattered around the stage for lighting. This is design on the cheap, but it works - really works. Added to this is Tom Hogan who is almost a fourth cast member sitting on stage creating fantastic sound and music alongside the actors.
This is a show full of magic, not that of trickery but rather magic of illusion and imagination.
Whitney Fitzsimmons
Images: Catherine Davies, Julia Billington and Kevin Kiernan-Molloy. Photographer: John Feely