Cyrano De Bergerac
By Damien Ryan, after Edmond Rostand. Sport for Jove. York Theatre, Seymour Centre. June 15 to 24, 2017.
Sport for Jove's acclaimed outdoor production of Cyrano in 2013 here returns, now indoors and well spread across the thrust stage of Sydney's York Theatre, Seymour Centre, before touring beyond. The cast is mostly the same but director Damien Ryan now also fills the shoes of Yalin Ozucelik in the lead.
It's a sweeping and easily vernacular telling of this famous French classic, set not when Edmond Rostand set his play, in the swashbuckling century of the musketeers (and that of the real de Bergerac), but only a decade or so after it premiered in 1897.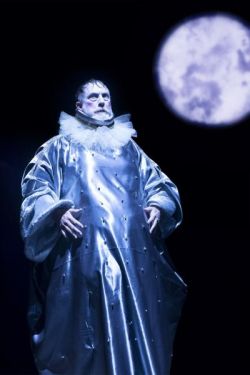 Rostand's Cyrano is an heroic gentleman soldier, but also an indefatigable genius of words, an enemy of all cant in love and politics – and cursed with a huge nose. So deformed, he can't declare his love for his childhood sweetheart, Roxanne, so instead articulates great poetry of love for a handsome but gormless young soldier who courts her.
Ryan's own adaptation delights with its witty, contemporary but somehow non-jarring references, blending Rostand's verse with Ryan's own rhymes and prose, comfortably delivered by Australian voices. As Cyrano, Ryan is almost understated, downplaying the theatrical relish of Cyrano's word power but his body ceaselessly leaping with every new thought. And underneath is the melancholy which flowers fully in the later scenes of World War I and a beautifully tender denouement in a 1930's convent.
These new, pertinent settings – and an hilarious pastry shop scene with the full, spirited ensemble - are rendered quick and colourfully by Anna Gardiner's design and her pleasing period costumes, with evocative lamp lights from Daniel Barber.
The star though is the now practiced ensemble and the ease and truth of their language and lively physical comedy. But worth noting is Lizzie Schebesta shining as the intelligent but still beguiled Roxanne, Scott Sheridan as Christian, and James Lugton, John Turnbull and Wendy Strehlow in other roles. This Cyrano de Bergerac is joyous, life affirming storytelling.
Martin Portus
Photographer: Phil Erbacher