Dead Gorgeous: A True Crime Clown Show
Madness of Two. Adelaide Fringe. RUMPUS. 7th to 15th March, 2020
If you think that a clown show about true crime is a weird premise, you're right, but somehow new Adelaide theatre collective, Madness of Two makes it work. Founded by two of Adelaide's award-winning theatre-makers, Ellen Graham and Jamie Hornsby, Madness of Two has set out to tackle important issues in non-traditional ways.
Graham and Hornsby have brought together some of Adelaide's brightest young talent to deliver a show that is part traditional clowning, part physical theatre and part musical theatre, all delivered in a series of punchy vignettes.
The cast of clowns are introduced via a pre-recorded narrative before they break the fourth wall to give us their True Crime Clown Show. I'm not too sure what the back story of this rag-tag trunkload of clowns is as the sound level on the introductory narrative was a bit low on the night I was there. That didn't spoil the fun though as they set about examining our society's preoccupation with "True Crime", both fictional and real.
Nothing is sacred here, from Romeo and Juliet to JonBenet Ramsey, as the clowns comedically confront issues of discrimination, domestic abuse, violence against our marginalised people and the subsequent responses of media and law enforcement. These are certainly all issues at the forefront of our consciousness in Australia at the moment. Although the journey might sound somewhat depressing the clowns and the audience manage to have a good laugh along the way.
Graham and Hornsby have enlisted the skills of Adelaide's clowning guru, Hew Parham, to direct True Crime Clown Show and it has paid off. Each clown has a skit to show off their skills and tell a story. Jasmin McWatters is a delight as the chic and empathetic clown Britney. Watch out for her lively, and very funny, ukelele ditty.
Arran Beattie as Roger often plays it deadpan, a great straight man to some of the silly antics of the others.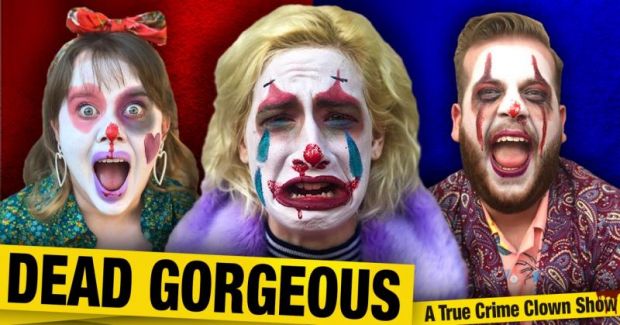 Zola Allen as Linda has a moment of marital bliss with Roger, ending in his abandonment and subsequent love for another woman, one he's never met. Graham gives her character Lizard an energetic and pliable physicality with an abundance of exuberant personality.
It is Jamie Hornsby as Wah who brings the strongest moments to the show, not through dialogue but through song. The highlight was the sing-along Hornsby led for the song, which he also penned, titled "Under the Rug". To me it seems that this would have also been a perfect way to end a show, the ultimate juxtaposing of fun against deeply serious content. That was, after all, what the show set out to achieve.
To end Dead Gorgeous: True Crime Clown Show with a strident monologue on violence against women and the apathy towards it felt anti-climactic. The message had already been received from the show loud and clear. It may have been better to "leave 'em laughing" and pondering why it is that we as a society often sweep these things "Under the Rug".
Jenny Fewster