Dead Skin
By Laneikka Denne. White Box Theatre Company at Kings Cross Theatre, Sydney. Director: Kim Hardwick. 2 - 17 April 2021
Dead Skin is the first post-pandemic production at the King Cross Theatre to be performed to a full house (80 people) and we all nestled behind our masks waiting to see how this play, written by 17-year-old Western Sydney girl Laneikka Denne and winner of the 2019 Flinders University Young Playwrights Award, would go. The truth is it went like a brilliant, multi-coloured sparkler!
I'd have to see it a second time (and perhaps a third?) to catch all that was going on in this remarkable work, but at a first showing I've no doubt that Ms Denne has announced herself to Australian stage and film is a big way. Already the youngest writer ever to be published by Australian Plays, she also undertakes the leading role of Andie outstandingly well. We have a Lena Dunham of our very own.
Andie works in a convenience store, a Quick-E-Mart selling mainly soft drink, and she whiles away the hours chatting with her mother, Andrea (played by Sarah Jane Kelly), who is also 17. How she does this so convincingly is part of the wonder of the play, but the conversation between these two is bright and beautiful: two intelligent girls chatting naturally about their lives and loves. Sarah Jane Kelly gets Andrea exactly. The air is punctured by more 'fucks' than have ever been heard round these parts - and it's King Cross, right?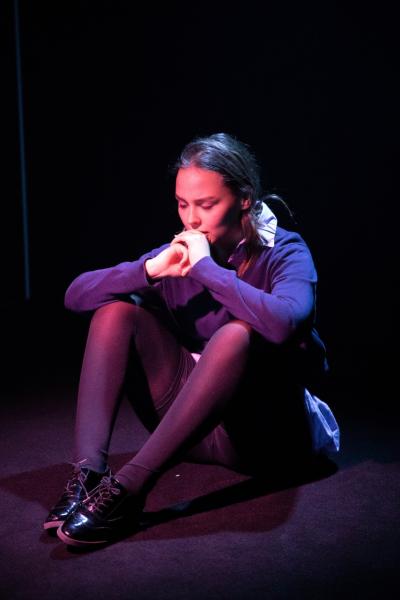 Also in the cast is Abe Mitchell as the only male, Henry, Andie's father, and Camila Ponte-Alvares as the girl/woman he's currently with, not many years older than Andie. Ms Denne goes easy on her substitute mother who is constantly interrupting her attempted fantasies, sexual or otherwise. The cast is completed by Ruby Maishman, and a powerful bunch of performers, directed to perfection by Kim Hardwick, I haven't seen for many a year.
A 2nd visit to the script is required. Many scenes went by in a rush of peak performances and scrambled meanings, though the overall message that "sex isn't love" came roaring through. The most pressing piece of news is clear: this powerful piece of modern theatre announces the arrival of Laneikka Denne.
Frank Hatherley
Images: Ruby Maishman and Laneikka Denne. Photographer: Jasmine Simmons