The Dead Twin
By Chi Vu. FLIGHT Festival. Footscray Community Arts Centre. August 12-22, 2015
The Dead Twin is a mysterious and haunting experience that ebbs and flows into the genre of horror. This immersive journey starts from a secret place and is quiet magically enhanced by an amazing haunting sound scape. It is the very type of work that is satisfying for theatre literate audience with rewards coming from active engagement, remaining focused, observing nuance and piecing inference together.
The Dead Twin explores the all pervading grief of two gentle and tortured souls Barbara (Deborah Leiser Moore) and Harold (Alex Pinder) who are the well meaning parents of the remaining, also grieving, twin Steve (Harry Tseng). Both Leiser-Moore and Pinder movingly and sensitively embody the devastating grief resulting from war related trauma. Steve, their son, seems to be masking his distress by attempting to convince his parents that he is living productively in the here and now. And yet amongst all characters attempts to put on best appearances, everybody, including the audience, are haunted by the dead twin played in an eerie and creepily ghostly manner by Daniel Han.
As the desperation of traumatic grief turns in on the family things go more and more awry. Ultimately the surviving twin is forced to make deals with the underworld as personified by a beautiful young sex-worker/sooth-sayer Lola portrayed by Davina April Wright.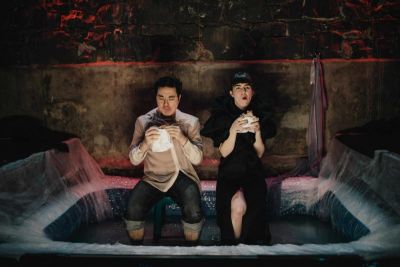 Chi Vu's courageous writing highlights the deep scarring of losing loved ones to violent death. It touches on the carnage of war that somehow, over generations, as a nation, we seem to have been able to 'sweep under the carpet'.
This production is masterfully choreographed by Deborah Leiser-Moore, as director, who as well as interpreting and managing the work has taken the challenge of performing in it, apparently with the aide of a body double in rehearsals.
The audience's attention is being continually focused and refocused and there are surprises aplenty. Ms Leiser-Moore's courageous and refreshing approach to directing has moments of luminescence. There are instances in this work when visceral poignancy pulls at ones very being as we witness the desperate rawness of grief. And there are other moments where it depends on one's own placement in the space as to how the work is received. This is usually the case with, the at times unpredictable beast that is, site-specific work.
Inspiring theatre makers to keep a very close eye on.
Suzanne Sandow
Photographer: Jave Lee.
Director: Deborah Leiser-Moore 
 

Visual Artist: Naomi Ota 

Sound Designer: Jacques Soddell 

Costume Designer: Ross de Winter 

Performers: Deborah Leiser-Moore, Alex Pinder, Harry Tseng, Daniel Han and Davina Wright