A Deal
By Zhu Yi. USU & Flying House Assembly. Chippen Street Theatre, Chippendale. Aug 22 – 31, 2019.
A Deal is an eye-opening topical provocation, full of laughs and insights into the virtues or otherwise of life in the US and Communist China.
By émigré Chinese writer, Zhu Yi, her play has been performed in her adopted New York and twice in China, but a third production seems impossible unless she adds an assertion that China's is the best system. Artists there are suddenly more tightly controlled.
A young actress begins the play's many deceptions by branding herself as an orphan and human rights victim to score a lead role on Off-Broadway. When her parents arrive from China with a dubiously acquired suitcase of cash to buy her a Manhattan apartment, the realities of immigration, and a lively intergenerational clash, take off.
Katherine Nheu is suitably naïve and driven as the privileged Asian actress trying to find the spotlight. Shi-Kai Zhang and Susan Ling Young deliver sharp true comedy as the parents – a burly, former peasant made wealthy by Chinese progress and party connections, and his droll wife who sacrificed her own theatre career.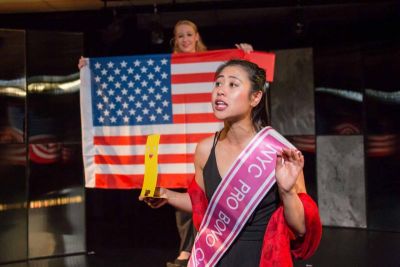 Edric Hong introduces yet more immigrant experiences as a Chinese American realty agent once – and still – fiercely in love with the Party man's wife. The two mens' battle over her, and which political system is best, is electric yet lightly handled.
And things aren't all pretty in New York. Paul Chambers, Suzann James, Sally Williams and Simon Lee play a host of mostly cynical Americans from Broadway, the media, real estate and old age homes.
Director Shiya Lu inventively hits most of the beats and scene transitions across Victor Kalka's wide stage design, aided by Luna Y Pan's sound. Occasionally the pace lags or moments are crushed by stolid dialogue, but The Deal is finally a fresh and thoughtful delight.
Martin Portus
Photographer: Kelvin Xu - Luky Studio