Dear Australia: Postcards to the Nation
Livestreamed monologues, presented by PlayWriting Australia. 2–5 July 2020
Dear Australia is billed as "50 fearless and inspiring short works from some of Australia's best playwrights". It is presented as a series of pre-recorded monologues over three nights, live on Facebook at the PlayWriting Australia YouTube channel. The 'postcard' format is perfect for getting across short and sharp messages, addressing themes current during the COVID-19 lockdown, including of course the virus itself, as well as other issues in the news such as the Black Lives Matter protests in the wake of the death of George Floyd in the US.
The premiere on night one included a bumper crop of 18 stories, performed by some of our best actors, many filmed live from their homes. It started with 'The Night the Bleeding Stopped' by Nakkiah Lui, performed by Miranda Tapsell – a near-futuristic confession from one woman about how she dealt with a miscarriage during an apocalypse – also touching on the short life expectancy of indigenous Australians while achieving a watermark of Lui's trademark sense of humour: "Who knew the end of the world would have Uber Eats and endless Netflix".
It was wonderful seeing high-quality videos such as 'On Xenia' written and performed by Elena Carapetis, grappling with the irony of the traditional Greek Australian over-the-top hospitality and how that jars with our treatment of First Nations People. 'Ladies Against Lockdown' by Sam Nerida sees Helen Thomson as a high-energy group leader handing out protest packs and facemasks (under duress) to middle-class women defying the lockdown. Naturally the coronavirus featured – none so prominently as in 'Hello Australia' by Willoh S Weiland with a soothing voice-over by Kris McQuade as the virus, performed by Noah Casey in a crazy coronavirus costume. After comparing the stats, the virus boldly asks humans: "Who causes the most suffering: you or I?" In 'Baby, I'm Home' by Ellen van Neerven, Elaine Crombie is a blue-haired coronavirus coming home to mother earth to share stories of their day over a glass of bubbly. And in 'Threshold' by Mary Anne Butler, Roxanne McDonald's Mother Nature laments "homo sapiens are but the blink of a cosmic eye – another blink and they'll be gone" as she decrees all the natural disasters and the number of deaths they cause.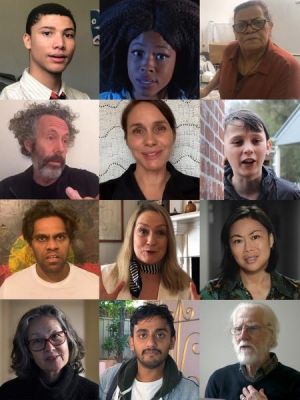 Other pieces shrug off the fact that under COVID-19, it's difficult to take other day-to-day issues seriously. In 'Shine Armour Scratch Repair' by Eric Gardiner, Kevin Hofbauer plays a character questioning how a minor car bingle is meaningless under the current circumstances. But the human need for closeness at this time hits home in two pieces that look at how people have dealt with family deaths during the lockdown. 'Distance' by Mark Rogers features Steve Rodgers in a truly heartfelt performance as a man who is unable to attend a funeral in the UK. And a voice-over letter to his grandfather performed by Anthony Taufa as he dresses slowly in traditional Tongan costume in readiness for the funeral was very powerful visually and emotionally in Emele Ugavule's 'Goodbye Papa'. Outstanding pieces for me were 'Our Lot 44' by Anchuli Felicia King which featured Catherine Văn-Davies as a pacey auctioneer at a futuristic art auction for racist graffiti spray painted on public properties during the COVID-19 lockdown – underlining how racism was just as contagious as the coronavirus. Another standout piece and performance was 'Spirited Away' by Dan Giovannoni with James Majoos as a high-school student desperately trying to connect with a fellow student during an online lesson. It was a simple but effective use of the medium in the face-to-screen format.
From the first night's offering in part one, I'm not sure the collection as yet lives up to the promise of delivering "a striking moment of national celebration" – apart from the wealth of talent on show, which is the main reason I'd recommend tuning in to the series as a whole. But the collection certainly provides a timely sense of reflection. Presented by Playwriting Australia, the stories are written by playwrights nominated by 25 theatre organisations from across Australia. Part two begins at 7pm on Friday 3 July. Part three is at 5pm on Sunday 5 July, and a panel discussion with Nakkiah Lui, Donna Abela and Aanisa Vylet will be broadcast by the Sydney Opera House on Saturday 4 July at 7pm. The Dear Australia scripts will also be published by Australian Plays and will be available from 6 July on their website.
Beth Keehn
Watch live on Facebook or tream the videos: https://www.youtube.com/user/PlayWritingAustralia
Find out more: http://www.pwa.org.au/2020-program/for-our-nation-dear-australia/