Death Becomes Her
Eva Kong and Alex Raineri. Opera Queensland. Opera Queensland Studio, South Bank, Brisbane. 4 and 5 June 2021
This year's Opera Queensland recital programme started in February and runs until September 2021. In the small Opera Queensland South Bank Studio, the series is a brilliant opportunity to see main-stage opera stars and hear the power of their (relatively unamplified) human voices in a wonderfully intimate space. It is also a chance to feel you are sitting in on a dress rehearsal, hearing the singers talk informally about their journey in song.
The theme of Death Becomes Her is inspired by the many death scenes that Opera sopranos are required to perform during their careers. In Eva Kong's case, the vivacious award-winning singer has such a zest for life and love of singing that she treasures each time she is on the stage and feels even more alive after each 'death' scene. It was very entertaining listening to Eva tell us about her journey from child superstar pianist in Korea from a very young age (she accompanied herself on piano for the first piece of the recital) to discovering her love of singing as a teenager, and finally being allowed to study singing when she was 19 years old. She talked us through the challenges of being labelled as a child prodigy, to her determination to make her debut as Violetta in La Traviata in Korea in 2019, despite heavy rain at the outdoor event. The singer has such an easygoing and endearing personality that it was an absolute pleasure to spend over an hour with her – and of course hear fabulous arias from some of the greatest composers spanning three decades. The main pieces were: 'Pantomime' and 'Apparition' from Quatre Chansons de Jeunesse by Debussy; Juliette's Waltz from Romeo and Juliette by Gounod; 'Addio del passato' from La Traviata by Verdi; 'Porgi amor' from The Marriage of Figaro by Mozart; Liu's death scene from Turandot by Puccini; and 'Un bel di' from Madame Butterfly by Puccini. Eva Kong's relaxed and friendly demeanour is reflected in her vocal style and she also embodies each character with pure ease. Eva also treated the audience to three additional songs in a welcome encore – including Mimi's 'Si mi chiamano Mimi' from La Boheme by Puccini, and a lovely Korean folk song.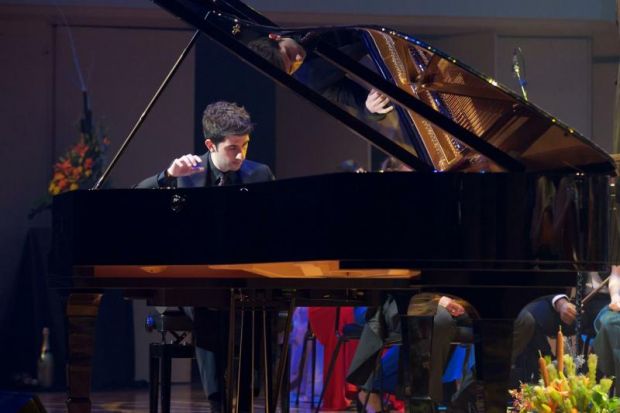 Image of Alex Raineri courtesy of Queensland Pops Orchestra
To give the singer's voice a break during the nearly 80-minute recital, accompanist Alex Raineri delighted with his sparkling rendition of Russian composer, Mikhail Glinka's piece 'The Lark'. This award-winning pianist is skilful and stylish, capturing the composer's harp-like cascading notes in emotive and delicate legato. As well as being a talented performer, Alex is also Director of the Brisbane Music Festival and collaborated with Opera Queensland's Artistic Director Patrick Nolan for part of the recital programme. It's great to see local companies collaborate to offer audiences unique experiences, and this is a brilliant series for fans of opera and music alike to get up close and personal with some of the country's most talented performers. To be able to enjoy more than an hour of virtuoso piano and vocal performances and then walk out into the bustling South Bank precinct with glorious music still singing in your head is a real privilege.
Beth Keehn
Eva Kong plays the Countess in The Marriage of Figaro in July 2021: https://www.oq.com.au
Eva Kong performs at Queensland Music Trails at Opera at Jimbour 25-27 June 2021: https://qldmusictrails.com/artists/eva-kong