Decameron 2.0 (Episode One: Those Who Make Sacrifices).
State Theatre Company South Australia. ActNow Theatre. Streaming from 10 July 2020.
The original Decameron was a series of one-hundred novellas, structured as if being told from a secluded villa, in order to distract both its tellers and its listeners from the reality of the Black Death that was ravaging nearby Florence at the time. A most apt analogy for life at the present time.
State Theatre Company SA have joined forces with ActNow, aiming with this 'filmed theatre' project to communicate "wisdom about ourselves and our world"; more often than not, this is what they achieve with the ten tales of solo performance to be found in episode one of Decameron 2.0 (with a total running time of approximately one hour). The best of these stories reward repeat viewings, teasing out layers and subtleties that may have been missed on a first appraisal.
Grace focuses on a woman conversing (presumably on Skype, during COVID isolation) with her (unseen and unheard) granddaughter about a life well-lived and the definition of a 'good person' - specifically a good girl. The general restraint of Carmel Johnson's delivery, and of Mitchell Butel's direction, is very appropriate for the point that is being made by Emily Steel's thoughtful text. The art of striking a balance between sacrificial selflessness and the need to live one's own life makes a terrific subject-matter for an excellent opening segment.
In Tita (Auntie), Valerie Berry speaks directly to camera, with a gently expressive emphasis, on the physical realities and frustrations of COVID. Director Edwin Kemp Attrill and writer Matcho Cassidy have given this section a grimly humorous slant, with a low-key conclusion.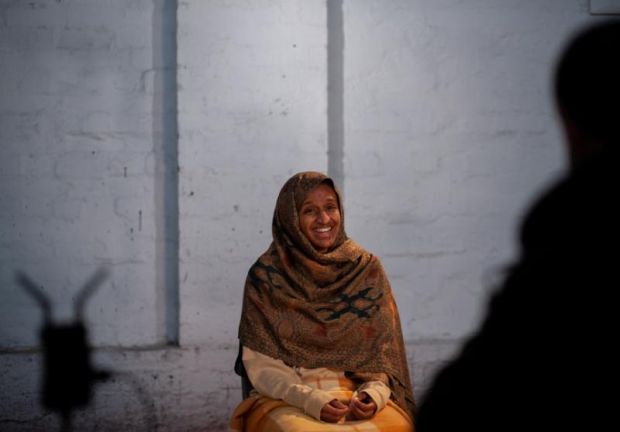 James Smith plays a cheerful 'tradie' at an AA meeting in Alex Vickery-Howe's Rowdy, pushed into considering his life choices, family responsibilities, and expectations of varying kinds. Smith's skills, under the guidance of director Yasmin Gurreeboo, make this segment formidably entertaining, even when the portrayal threatens to feel a little exaggerated. Rowdy eventually presents us with an intriguing, open-ended conclusion.
Almaz, both written and performed by Manal Younus, is possibly the most oblique of the ten texts, seeming to concern a refugee woman reflecting on escape from war, and its lingering legacy. Though challenging, Younas' presentation (under M. Butel's direction) communicates some poetically-harrowing imagery that is well worth the effort, while her performance is sincere and gratifyingly restrained.
Charlie is a transgender person lamenting the postponement of their surgery. The empathy, humanity, and sincerity of Penn O'Brien's script and Rhys Stewart's performance are never in doubt. However, they are hampered somewhat by an unsatisfyingly sudden ending, as well as the questionable presentation that consists of a close-up static shot accented by lighting that visually suggests a duality of light-and-dark; it's just a little too distracting. Possibly director Anthony Nicola intended these choices to convey an unflinching honesty and intimacy, and perhaps it will play that way for many of its audience.
'Saving the planet versus saving one's dreams' is the richly intriguing and satisfying subject of Wren. Sally Hardy's writing is straightforward but not simplistic; Miranda Daughtry's acting is expressive and engaging; both elements are totally in sync and brilliantly poised between humour and tragedy. Even the framing of director Clara Solly-Slade is smart and well-judged. Wren is an outstanding success.
Greg is hampered chiefly by its curious presentation; there is something odd and unhelpful about the way that director Alexis West's chosen camera angle (or else the lens) overemphasises actor (and program host) Jack Buckskin's hand gestures and enormous drinking mug. Because of this, Kyton Weetra's writing faces an uphill battle in successfully communicating its story to us; fortunately, there are enough moments when the performer's skill with timing and characterisation does shine through.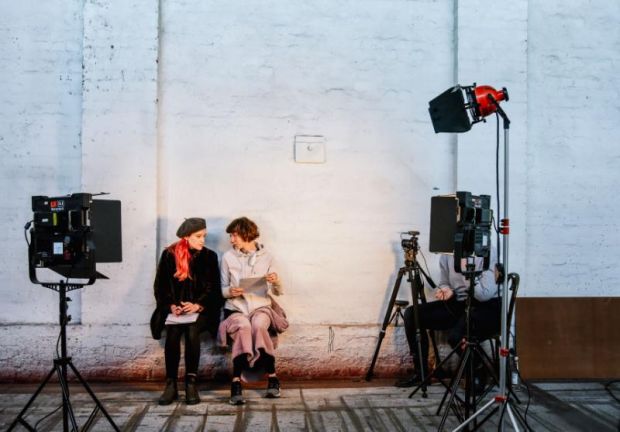 Sarah Peters' Emma, as directed by A. Nicola, also attempts something unusual in terms of angle and lighting, with performer Arran Beattie constantly moving within the frame as their make-up is removed. This time, the risky approach generally pays off, while Beattie's delivery is commendable for being well-paced and nicely modulated. The ending of Emma, while not exactly sudden, still feels somewhat unfinished and unsatisfying.
Director Y. Gurreeboo's distinctive setting/framing brings a great deal of distinction to June, while Ben Brooker's text presents a useful and interesting angle on the various impacts that are being weathered by businesses in this era, combined with a touching portrait of the need to maintain mental health and community co-operation in these challenging times. Caroline Mignone's performance is mostly light and delicate but also quietly forceful in a way that really impresses.
It's probably not mere coincidence, or an accident, that the most brilliant and breathtaking of the ten tales is saved until last. On both the personal and political levels, Tearnah, both directed and written by A. West, packs an absolute wallop. Elaine Crombie's dramatic timing and intonation are simply superb, matched by the quality of the writing; you won't forget the closing words in a hurry.
The sheer act of sustaining the process of mental adjustment required to assess ten separate characters and their individual contexts within the space of an hour can be challenging, but the STC deserves immense credit for making the best of current circumstances and delivering this impressive package - written, workshopped, performed and recorded within the space of a fortnight - to us lucky theatre buffs online. Here's eagerly awaiting episode two!
Anthony Vawser