Areté: Delta
Dionysus Theatre. Cube 37 – Frankston Arts Centre. Thurs 3rd – Sat 5th May, 2018
Based on a different theme each year Areté : Delta is the fourth festival offering from Dionysus Theatre, a company that always provokes debate and vivid discussion surrounding their works.
Areté is an innovative performance and visual arts festival, where all work presented responds to a specific theme. The chosen theme for 2018 - 'I think you travel to search and you come back home to find yourself there.' – Chimamanda Ngozi Adichie
In the Cube 37 foyer is a display of visual art from Artists in Residence – Travel photography by Lauren Varcoe, Poetry by Vicky Karitinos and a beautiful script instillation that you can interact with and draw on made by award winning playwright Hayley Lawson-Smith.
These installations give the audience a chance to begin thinking about the multitudes of ways that the theme has been looked at.
Each of the performance pieces, written and directed by established and emerging playwrights and directors, have been created specifically for this festival.
In 2017 we also saw the movement troupe The Pythia. This time around we see 'Where's Wally' as SHE travels to Brazil, France and India, creating a perceived notion of what each country is stereotypically like, thus creating familiarity and disparity for the audience.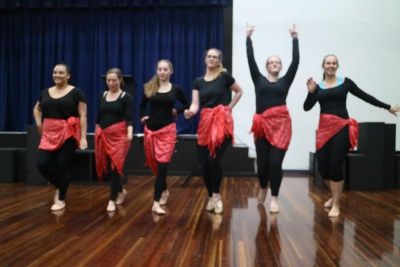 The first play of the night is a piece of verbatim theatre. Three women on stage deliver the exact words of travel stories from nine women of multiple ages. Marnie Kavanagh, Vicky Karitinos and Isabelle Sophie exquisitely portray these women with care and precision.
Last year we saw Gretel Sharp as a solo performer. This year we see her again in a silent monologue, Coping, which is intriguing and complicated. Sharp is mesmerising in the silences and deafening noises, creating a haunting atmosphere of her internal psyche. Her ability to change characterisation in 2-3 seconds is remarkable,
Still Waters, written by Arthur M. Jolly, ends Act One - a shattering story of a young couple that have lost a child, with neither having resolved their own pain and harboring resentment toward each other. Kate Hilgendorf and Jon Simpson are devastatingly brilliant in their grief.
Beginning Act 2 is Michelle Robertson as Nigella, yes, THE food goddess. Written by Ian Burgess, it is uproariously funny, yet underscored with pockets of truthfulness at the same time. Robertson cleverly intermingles with the audience with hilarious results.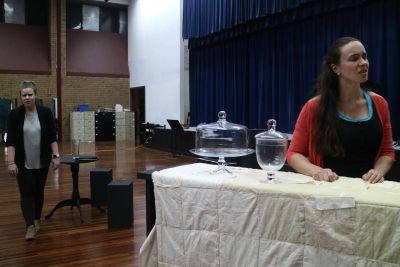 Rumours of my Death is a perplexing story, taking time to digest what is happening before coming to grips with the underlying story. Brydee Grace and Lisa Vandewater are quiet, yet display an emerging confidence in the difficult story arc.
Absurdist theatre is in full swing with Holly and the Ivan Blues. Trans-dimensional travel, a snarky security chick (Andrea James in a completely different role than act one), and a 'sound and lights' man of a thousand accents, Mitch Sholer. This play, written and directed by Harry Patternoster, is complex, baffling and completely comical.
Two small spoken word poetry pieces intertwine the plays in Act Two, Gretel Sharp and Amber Budd are yin and yang, black and white, but work perfectly together on stage.
If you are wanting to see theatre to make you think and engender deep thoughtful questions (and, of course, to be entertained at the same time) then you must put Dionysus Theatre's Areté : Delta at the top of your list immediately!
Penelope Thomas