Demagogue
Adelaide Fringe Festival. World Premiere. Safari Street Creative. The Studio at Holden Street Theatres. Feb 25 – 27, 2022
Interestingly akin to another Holden Street Fringe offering, Demagogue is about war. Not the terrible Ukraine war that is currently wreaking devastation or the deeply disturbing Afghanistan war the world may never recover from, but what seems at first to be a painfully deeply personal family battle that the combatants jockey to win despite the hopelessness for them, their beliefs and their fears.
Safari Street Creative is a two year old South Australian-based independent theatre company focused on local writing, innovation and challenge. This piece is the very embodiment of the definition of demagogue. Redefining a parent as a political leader, we see the blatant manipulation of messages, desires and prejudices played out in a 1:1 verbal battle fought by two narcissistic, powerful, yet deeply flawed parents who have been summoned to deal with what seems, at first, to be a trifling misdemeanor by their daughter. Rational thinking 'goes out of the window' and is replaced by dizzyingly fast barbs aimed at wounding to win as two actors, armed with mobile phones and acid wit, explore their loveless marriage of convenience, the Australian political scene, 'selling' revolution to the masses and the accidental parenthood that binds them together whilst also defining their human and parenting inadequacies.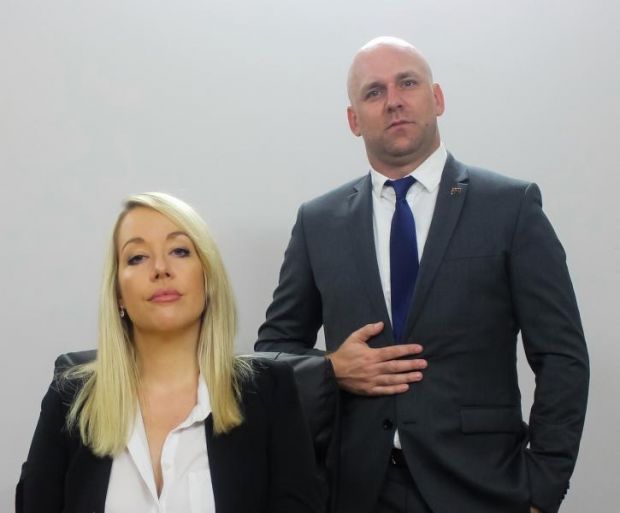 The 60 minute long script is a hero of this show, and despite being set in a university Dean's office, (not an Australian term), it is well grounded as an Australian piece. We meet Chris and Kate, parents of Michaela. Neither wears a wedding ring, but it transpires that they are married, unhappily, and are continuously locked in a power struggle; a game of control where each punishes the other with caustic comments and Machiavellian-styled 'truths' aimed at making them the victor in each exchange battle. The language, attitudes and references make it easy for the audience to identify with Chris' role as a government political figure and Kate's marketing and PR work for the government and other clients.
Spencer Scholz as Chris and Samantha Riley as Kate are a tour de force. Scholz has a splendidly mellifluous voice with beautiful timbre and portrays the frustrated, not entirely fulfilled or successful politician with energy and strong vocal passion. By contrast, Riley brings an icy stillness to much of the role. The audience can see the 'cogs' turning over as she recalibrates, and again, recalibrates her 'spin', sometimes doing a calculated 360 degree turn to maximize political opportunities and ensure a 'win'. She vacillates between cold and unmoved to starkly vulnerable with impressive ease.
Demagogue is an allegory that is cleverly disguised as a simple parental intervention. It provokes, and it challenges the very decency of humans in a world where nothing is sacred and where people who are principled may or may not be real. Media, morals, political ethics, mass manipulation, and parenting are all woven into this tightly scripted, beautifully written and acted piece. I could find no reference to a director, but this piece presents as an immaculately rehearsed piece of first class theatre. Sadly, it is not a long season for this talented locally created piece. I, for one, look forward to Safari Street Creative's next piece of theatre.
Jude Hines