The Diary of a Madman
By Nikolai Gogol, adapted by David Holman, with Neil Armfield and Geoffrey Rush. Belvoir (NSW). Director: Neil Armfield. Composer: Alan John. Designer: Catherine Martin. Lighting Design: Mark Shelton. Sound Design: Paul Charlier. December 8, 2010 to February 6, 2011.
Ah, the prestige of sharpening the boss's quills! This is the proud career pinnacle of Poprishchin, a lowly clerk in the Russian civil service, much to the envy, real or imagined, of his colleagues.
Surely enough to send anyone around the twist, but when Geoffrey Rush interprets Gogol's Madman, madness equals virtuoso theatrical pyrotechnics.
Expectations ran high for this bookend of director Neil Armfield's 16 years at the helm of Belvoir, revisiting a highly lauded early collaboration with Geoffrey Rush. Since that highly lauded 1989 production, Rush has gone on to triple Golden Globe, Oscar and Tony award recognition, designer Catherine Martin has taken out the Oscar / Tony double and Armfield has been the recipient of a truckload of Australian stage and film awards.
Happily, expectations have been met and exceeded in a tour-de-force production.
In a consummate display of inspired physical and vocal clowning, comic and utterly tragic, Rush completely inhabits the role. At 59, he remains supremely energetic, fit, agile and elastic.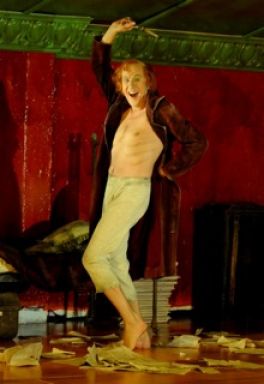 On the open Belvoir stage, Geoffrey Rush breaks the fourth wall, the third wall, and whatever barrier there might be between him and the musicians, playfully and cheekily engaging with his audience. (So perfect was that engagement, that when Poprishchin's candle blew out, the second night audience delightedly accepted his invitation to believe it was still alight.)
Two decades on, is the pathos of Poprishchin's position elevated when played by an older Geoffrey Rush? Empathy with this man's lifelong career stagnation, and the associated poignancy of his madness, now runs even deeper for me.
While Rush is onstage all night, he shares many of the play's most endearing moments with his delightful foil Yael Stone, as his Finnish maid. Despite the character's communication barrier, or perhaps even amplified by it, she reveals a touchingly genuine, uncomplicated and growing concern for Poprishchin during his descent. The rapport and repartee between Rush and Stone is rich and rewarding. She is also very funny as the young woman, above his status, with whom he is infatuated, then, deeply touching as his fellow inmate, amidst the shocking brutality of an 1830s psychiatric institution to which he is finally committed for his delusion that he is the legitimate heir to the Spanish throne.
Tess Schofield's costuming captures an air of faded, tattered gentility in Rush's clothes, replaced by grubby long-johns, and eventually a straight-jacket, with un-tethered arm extensions flapping wildly in the despair of character's ultimate decline.
Catherine Martin's deep claret walls, combining with shabby gilt and an encrusted skylight, have similar resonances, while a sharply slanted ceiling allows for moments of claustrophobic upstage focus, in combination with Mark Shelton's lighting, which heightens and focuses the drama, but also gets in on the gags.
Composer Alan John's scoring, largely derived from Mussogorsky, is organic to the performance, joining in the jokes, complementary to the characterisation, and then amplifying the play's ultimate brutality.
This fitting end to Neil Armfield's tenure as Belvoir's Artistic Director is far from his directing swansong at the theatre, with Summer of the 17th Doll already scheduled for 2011.
Neil Litchfield
Images: The Diary of a Madman - Geoffrey Rush - Photographer: Heidrun Lohr.
With the season all but sold out in advance, a limited number of tickets will be released at 9.30am on the day (2.30pm on Sunday) for each performance from 2 January to 5 February. Tickets are only available from the Box Office and are limited to two per customer. Call 02 8396 9699 for more information.