The Diary of Anne Frank
By Frances Goodrich and Albert Hackett. New Theatre, Sydney. June 11 - July 11, 2015.
Last week was Anne Frank's 86thbirthday and one can imagine that had not World War Two intervened, most likely she would still be alive today, tending her flock of grandchildren and keeping her razor sharp mind amused with a busy schedule.
I found my visit to the now famous house in Holland where she spent two years particularly haunting. Peering at the pictures of Anne as a school-girl she very closely resembled my mother. Only good fortune allowed some to escape Europe before it was too late.
But it is not only Jews who can connect to her story, as The Diary of Anne Frank makes the Holocaust seem so real. As well as the stress of the fear of being discovered by the Nazis with its life and death consequences, there is the ordinary journey of a girl becoming a young woman.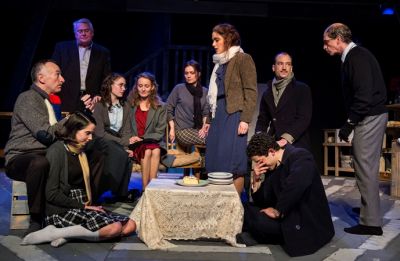 The pressure cooker of living in a confined space with different personalities also has its humorous moments. This was Big Brother before reality television.
The New Theatre took great care to bring this play to the stage and in every sense did it justice.
First staged in 1955 it won a Tony Award and was personally supervised by Anne Frank's father Otto.
From the thick wooden beams of the loft, to the cramped bathroom and kitchen you felt the claustrophobia of their living quarters in Allan Walpole's set. Original music from Leonie Cohen and haunting lighting from Heidi Brosnan were evocative.
Recent WAAPA graduate Justina Ward was convincing as Anne. You felt the comfort she received from writing her diary and yearning to escape her predicament.
James Bean was touching as Mr Frank, holding the group together when personalities were boiling over.
Geoff Sirmai as Mr Van Daan drew the short straw in having to portray the most unpleasant of the inmates, whilst Martin Portus as Mr Dussel the Dentist, shone as the intruder admitted to the house in episode three.
Although foreshadowed in the first scene, the ending to the play is no less of a shock.
As the Director Sam Thomas wrote in the program, "Sadly, the play's underlying themes of discrimination, intolerance and the scapegoating of minorities are as relevant today as they were 70 years ago. Around the world, innocent people are still imprisoned, tortured, beaten or murdered because of their religion, race, sexuality and gender."
David Spicer