Diary of a Scoundrel
By Alexander Ostrovsky, adapted by Rodney Ackland. Villanova Players. Seven Hills Campus of TAFE, Brisbane. Director: Brian Cannon. Nov 23 – Dec 8, 2012.
Diary of a Scoundrel is a 150 year old Russian comedy, and at its original length is three acts and three and a half hours long. It was translated into English in 1988. Fortunately this adaptation brought it down to two acts thanks to Rod and Maria Thompson's edits and cuts by director Brian Cannon. It's still a long play, but at two hours and twenty minutes it's more manageable.
Russia is not noted for its comedies so this work is a more than happy discovery and a surprise as to how contemporary its themes are. Set at the end of the Tzarist rule, a young man of no particular means but his wit and writing ability ('the Scoundrel') inveigles his way into Moscow society by stroking the egos of the rich and keeping a secret diary of his true thoughts of these hypocritical people. Inevitably the diary falls into the wrong hands, which causes embarrassment for all. Lines about someone being a 'liberal' or a 'free-thinker' and working for the 'State' generated plenty of laughs.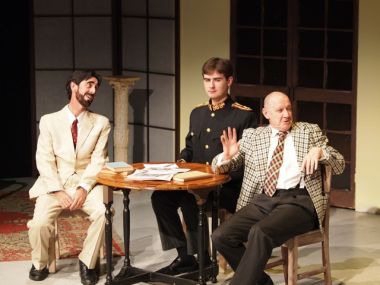 As 'the scoundrel' Yegor Simitrich Gloumov, Cameron Gaffney had audience empathy throughout and made an amoral character likeable. The women in his life, Kleopatra and Mashenka, were fetchingly played by Fiona Kennedy and Leanne Sheeshear, whilst Jenny Brunner was an amusing Madame Tourosina. Maria Thompson got the most out of the larger-than-life clairvoyant Madame Maniefce, but it was David Jones as the Uncle, Mamaev who impressed - a nice fully-rounded performance. Brian Cannon kept the piece buoyant with a sure and light directorial touch. The play needs to be reworked and reimagined as Neil Simon did with Chekov's The Good Doctor (which ironically is on Villanova's production slate for next year), but until then, this version does what it's meant to do - pleases its audience.
Peter Pinne
Photographs courtesy of Ian Colley Photography.