Diary of a Wombat
Based on the book by Jackie French and Bruce Whatley. Monkey Baa Theatre Company. Lend Lease Darling Quarter Theatre. April 18 – 24, 2017
Monkey Baa's adaptation of Jackie French's first book about Mothball the wombat is true to Bruce Whatley's vivid illustrations depicting a week in the life of this endearing but mischievous mammal who spends the days sleeping, eating, sleeping, scratching, sleeping … and finding as many ways as are possible to annoy the family whose garden she has chosen to make her home.
Directed by Alice Osborne and accompanied by cellist Oonagh Sherrard, three actors – Michael Cullen, Julia Ohannessian and Shandell Pratt – manipulate puppets created by Bryony Anderson to bring into another dimension the enchanting character of the wombat, as well as playing the bemused couple whose life Mothball has invaded.
True to the sparse diary-style language of the book, the performance has no dialogue, thus relying perhaps a little too much on the assumption that the young audience is familiar with the book. Those who are certainly appreciate the languid lethargy of the creature, and gleefully anticipate the her naughty escapades when she is awake - including battles with a garbage tin, a door mat, the clothesline and the disastrous effect of burrowing in the garden and using garden furniture and a ladder as scratching posts.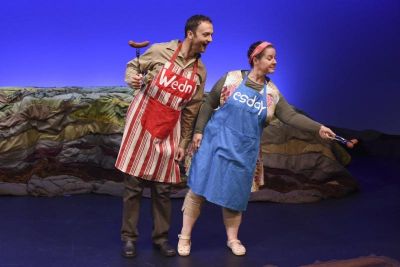 The personality suggested in Whatley's delightful illustrations comes to life in the beautifully created and manipulated puppet, who 'breathes' and 'snores', scratches convincingly and looks wickedly at the audience before each rascally attack on the humans she eventually comes to love.
Though perhaps just a little too esoteric for kids who don't know and love the books, the adaptation is true to Whatley's illustrations and to the 'diary' format French has continued to use for each of her 'wombat' books. The title of latest of these books – "Wombat Wins" – is an apt description of this production.
Carol Wimmer
Potographer: Heidrun Lohr.