Die Fledermaus
By Johann Strauss II. Co-Opera. Director: Frank Ford. Choreographer: Nick Carroll. Conductor: Julie Sargeant. Darebin Arts Centre. March 15, 2013. And Regional touring.
South Australia-based professional touring opera company Co-Opera has been around for over twenty years, and this year is touring Johann Strauss's Die Fledermaus (The Revenge of the Bat).
Set in 1920s Australia, with broad Aussie accents and a lot of slapstick, the production featured an excellent small orchestra led by Julie Sargeant from the keyboard.
Though I wasn't personally keen on the slapstick approach, the performances were uniformly strong, as was the singing. I was particularly impressed with Raymond Khong's beautiful tenor as Eisenstein, Kate Bright's strong mezzo as Orlofsky and Jeremy Tatchell's clean baritone as Falke. Sara Lambert was a bright and effervescent maid. The diction was excellent and the choreography tight.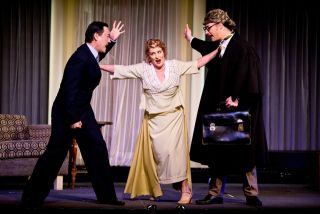 It was a pleasure to hear unamplified voices projecting clearly in well-balanced ensembles. The bubbles which emanated from the stage during the final champagne ensemble were a nice touch.
Touring mainly to country venues, the single set, with a couch and tables moved on stage to signify the various acts, was designed for a more intimate venue, as was the production.
Unfortunately the publicity wasn't successful for the sole Melbourne suburban performance, judging by the attendance. I trust rural Australia will support this worthwhile project better than Melbourne.
Graham Ford