Die Fledermaus
By Johann Strauss II. State Opera South Australia. Her Majesty's Theatre, Adelaide. October 24/25th, 2017
Die Fledermaus is the quintessential operetta penned by the legendary Johann Strauss II and first presented in 1874. It has been updated many times with varying degrees of success. David Lampard, well known to Adelaide for his quirky interpretations of classic works has moved the story to Beverley Hills in the present day.
For those of you who do not know the original story, Eisenstein is due to report to prison for assaulting a police officer. He is persuaded, however, to attend a red-carpet party at Prince Orlofsky's, by his friend Dr Falke, who plans revenge for having been abandoned on a previous occasion.
With Eisenstein missing, his wife Rosalinda takes the opportunity of his absence for an assignation in her house with Alfred, who is mistaken by Frank, the prison governor, for her husband and taken to prison.
Adele, Rosalinda's maid takes time off and in Rosalinda's dress attends Prince Orlofsky's party, where Rosalinda also appears, disguised as a Hungarian countess.
In a series of mistaken identities Eisenstein flirts with his own wife and toasts, under the alter ego of the Marquis Renard, the prison governor Frank, introduced as the Chevalier Chagrin.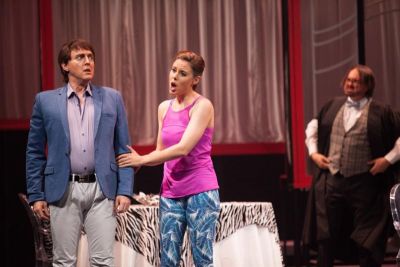 More disguise, along with ambition and retaliation ensues, but all ends happily.
Lampard's production takes the classic characters of Die Fledermaus and shifts them to America with some success. I really enjoyed Adele's annoying whiny accent, Orlovsky's generous Russian accent, Rosalinda's phoney Hungarian accent and Eisenstein's hysterical French accent.
Production-wise, Act 2 is a gem, sparkling, witty and moving along with dazzling pace, with Acts 1 and 3 less so. Act 1 is easily forgiven, as setting up a complex plot is hard, however the Frosch scene beginning of Act 3 is overly drawn out. As good as Rod Schultz's characterisation is, less is more in comedy.
Desiree Frahn is perfect as Rosalinda, flighty, scheming and flirtatious. Her Hungarian solo in Act 2 is memorable, every note a dream.
Joshua Rowe's Dr Falke is perfect. He is the glue that holds the story together. His velvety voice combined with a commanding presence ensures the operetta moves along with determination.
Adam Goodburn as Eisenstein proves once again that opera singers can act well. He takes a seemingly straight part and injects it with just enough farce and melodrama to prevent it becoming one dimensional.
Beau Sandford is perfectly cast as Alfredo. He has all the swagger of the great Pavarotti. I particularly enjoyed the interpolated opera favourites in Act 3.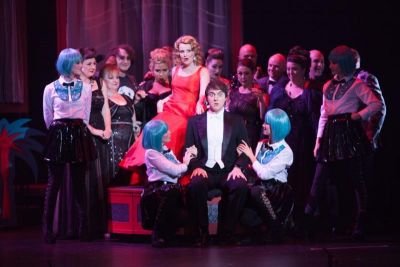 Sarah-Jane Pattichis is a delightful Adele, petulant, cheeky and feisty. Like Goodburn she nails the character. Unfortunately, on the night I saw the show she struggled with the last few notes of the famous 'Laughing Song', but apart from that, is a pleasure to watch.
Andrew Turner, Rod Schultz and Karina Jay all turn in very competent performances that complement the other characters and are well rounded in their own right.
As wonderful as these characters are, the night belongs to Rosanne Hosking's brilliant portrayal of Prince Orlovsky. She is riveting to watch and listen to whenever she appears on stage. A tribute to Conchita Wurst, she slinks and glides across the stage like a panther, the best Orlovsky this reviewer has seen.
Musically, Nicholas' Braithwaite's orchestra shines. Even though he uses a reduced orchestra compared to other productions, the sound is superb. As always, the State Opera chorus provides solid support and depth for the principals. There were a small number of pitch problems and a lack of vocal strength from some of the principals on the night I attended.
Nathan Luscombe's lighting design highlights both David Lampard's set and the actors, while adding a real gloss to the production.
All in all, Die Fledermaus is a fun night out showcasing Strauss' music and the sleaziness of Beverley Hills.
Barry Hill
Photographer: Darren Williams