Dig for the Diggers
By Lynn Brittney. Square Pegs. Directed by Meredith McQueen. Hobart Anglesea Barracks Officers' Mess, and touring. 8 - 16 July 2016
It may seem hardhearted to say that the Centenary of ANZAC has proved to be a rich field of material for theatrical performances, but that has been the case, with many productions commemorating the 1914-1918 conflict, during which thousands of Australian armed service personnel died. Of the many wonderful productions, one of the most powerful to date is a short play called Dig for the Diggers written by Lynn Brittney and performed by Square Pegs.
Dig for the Diggers tells the story of the DNA identification of (fictional soldier) Mick Feeney – stubborn Australian miner from Bothwell, who volunteered for World War One and ended up buried in a mass grave at Fromelles in 1916.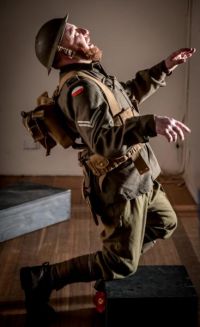 The Battle of Fromelles took place on the days of July 19th and 20th, 1916, and came to be known as 'the worst 24 hours in Australia's entire history.' Over five and a half thousand Australian soldiers were killed, wounded or taken prisoner due to an 'error' by the British High Command. The Germans buried all those who were killed in mass graves behind German lines, however, not all the burial pits were found in the aftermath of the war. Eventually, in 2007, more graves were found and exhumation began in 2008. A new cemetery was created and a process of DNA matching amongst Australian relatives began. The first body was re-interred in January 2010.
This moving, tense, funny, heart-rending play recounts the story of a fictional 'first body' in the shape of character Mick Feeney. The play creates immense audience identification wherever performed. The superb cast: Peter Miller and Philippa Clymo as the archaeologists, David Bannister as Mick Feeney, Meredith McQueen as Mabel, Kathy Spencer as the granddaughter, Ian McQueen as museum director and bugler Corporal Ashley Thomson were professional throughout the performance. That the cast and crew maintained their composure was extraordinary – even though they have performed the play several times, they were moved to tears at each show.
Good writing, good acting and excellent technical work by stage manager David Clements add up to a remarkable play to make you think and feel.
Merlene Abbott
Photographer: Ashley Thomson