Dimanche
By Julie Tenret, Sicaire Durieux and Sandrine Heyraud. Cie Chaliwate & Cie Focus (Belgium). Adelaide Festival. Space Theatre, Adelaide Festival Centre. February 28 – March 7, 2020
Dimanche, presented by Cie Chaliwate & Cie Focus from Belgium is an extraordinary piece of 'family theatre', and is a welcomed addition to this year's Adelaide Festival. We journey through inter-related sketches involving a small group of people facing apocalyptic change. Whilst never directly stated, this apocalypse is the result of severe climate change. Subsequently, whilst relatively harrowing and tragic, it is also extremely topical and relevant at this time.
What makes it all thrilling to watch and experience is the clever and imaginative use of what is called a magic 'black curtain', creating masterful and power visual effects, miniatures, and some truly stunning puppetry.
We begin with three documentary film makers, performed by Sicaire Durieux, Sandrine Heyraud, and Christine Heyraud, who travel to the Arctic Circle. The journey gives a hint of the brilliant staging yet to come, with a pair of window wipers and a steering wheel representing the car, the wipers being held at different times by the three actors and frantically beating with the rhythm of the music whilst the three actors try to have a cup coffee. It is hilarious!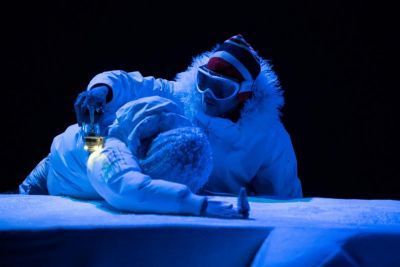 Hilarity, however, soon changes to a more sombre reaction as one of the party drowns under the cracking ice. We then move quickly to the next sketch involving a polar bear and its cub. Like all the respective sketches to come, it ends tragically. The sketch involving the polar bear and cub is one of the highlights of this 80 minutes show. It is a brilliant use of puppetry, one of the best I have ever seen. Other puppets include a flamingo who has lost its chick, and a lovely old granny in an apartment that meets an explosive end.
The humour of this wonderful piece of 'family theatre' is sardonic but always engaging to watch. It is a truly extraordinary experience; on one hand you are constantly amazed by the imaginative brilliance of the staging, and on the other hand constantly reminded of the potential tragic consequences of ignoring climate change.
Highly recommended.
Tony Knight
Photographer: Alice Piemme