Dinner
By Moira Buffini. Sydney Theatre Company. Drama Theatre, Sydney Opera House. September 11 – October 28, 2017
There are surely more plays and films set around dinner tables than we've all had hot dinners. Almost. Dinner parties of course are highly theatrical affairs and Moira Buffini really lets hers rip in her 2002 play, Dinner.
Set in an English country manor, bitch hostess Paige supervises a surreal menu to mark the publication of her husband's hit philosophical opus. A former stockbroker, Lars' book is some Nietzschean ode to righteously selfish action, and the dinner guests match its values ….
Hal (Brandon Bourke) is an indefinable microbiologist at war with his partner Sian (Claire Lovering), a celebrity newsreader offering little beyond the autocue. Wynne (a masterfully true Rebecca Massey) is a bohemian artist who's just dumped her politician lover.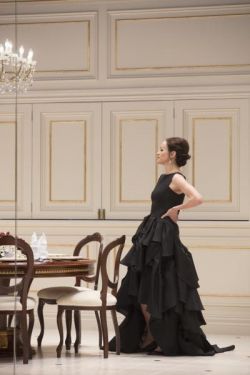 And unannounced is a cocky young removalist and pseudo thief, Mike (Aleks Mikic), who provokes much entertainment and class confessions amongst these addled Brits. Bruce Spence is the silent waiter whose towering presence promises the night's final farcical surprise.
Buffini's play is a riot of cynical comedy, especially from an elegantly malicious Caroline Brazier as Paige, orchestrating her mad food and cruel games. Sean O'Shea is also strong as Lars, pompous, later crumpled and hostile.
It is thougha night of nihilism, great fun but as empty-headed as the guests. Imara Savage crisply directs the comic and unravelling action at the table but breaks it with portentous pauses and touches of meta-theatre, suggesting thematic depths which are just not there.
Nor is it transparent why we must watch these characters perform – and made even more remote - behind a proscenium glass wall on Elizabeth Gadsby's widely cinematic set. Yet behind the glass, Gadsby's brittle white and gold Queen Anne, panelled dinning room is a perfect setting for this dinner party decaying to nothing.
Martin Portus
Images: Caroline Brazier, & Brandon Burke, Rebecca Massey and Claire Lovering in Sydney Theatre Company's production of Dinner.
Photographer: Brett Boardman