Dinner
By Moira Buffini. Stirling Players. Directed by Virginia Moore Price. Stirling Theatre, Innaloo WA. Feb 6 -20, 2021
After a slightly delayed opening night due to Perth's latest Covid shutdown, Stirling Players' very black comedy, Dinner has opened to reduced audiences at Stirling Theatre. Beautifully presented, this show is very nicely cooked - unlike the meals in the story.
The most unlikely dinner party you are likely to witness, Dinner is set in the conservatory dining room in Paige and Lars' expensive home.Virginia Moore Price's set design is beautifully realised - including an excellent back drop by Kate Elder and Virginia Moore Price that beautifully evokes the evening and heavy fog outside. Lighting is superb, with designer John Woolrych creating outstanding atmosphere. Sound design, by Ian Wilson, is also strong.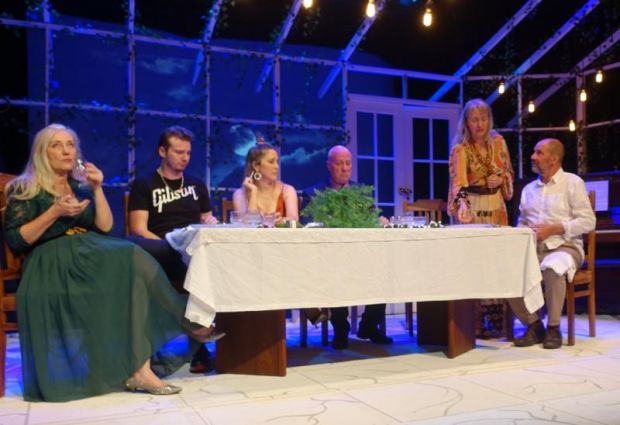 The central role is superbly created by Suzannah Churchman, who is outstanding as the very glamorous, beautiful and very unhinged Paige. We are more used to seeing Suzannah play much older and much less sexy characters, and it is a joy to see her as this villainous, socialite extraordinaire, with a mean-streak deeper than the Atlantic. She works beautifully against husband Lars, who is given depth and strength by Malcolm Douglas.
The dinner guests are very nicely played - forming a formidable ensemble and working well as a team. Kate Elder is excellent from the moment of her impressive entrance as artistic Wynne. Warring couple - scientist Hal, and trophy wife, TV presenter Sian - are very nicely played by Peter Neaves and Laura Brunini. Unexpected guest, Scottish van driver Mike, is given great character by Jacob Lane in another impressive performance.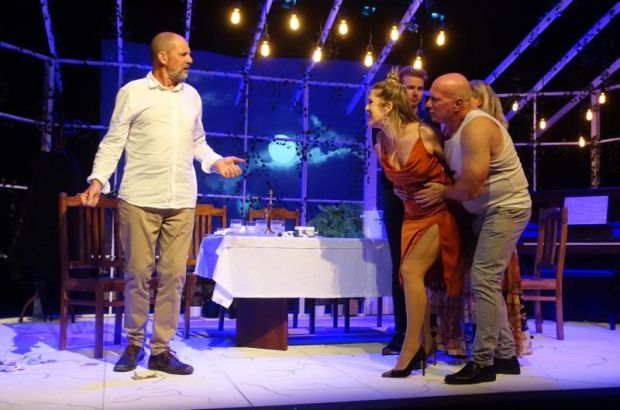 The mysterious waiter, seemingly the perfect employee, is played to perfection by Sean Bullock, expertly completing this strong cast.
I saw Dinner at a matinee. Very much a departure from Stirling's usual fare, the elderly crowd absolutely devoured Dinner, despite its strong language and really nasty themes.
Dinner will not be to everyone's taste, but this is a sumptuously presented, expertly prepared production that those who appreciate solid direction and good acting will find very satisfying.
Kimberley Shaw