The Dirty Mother
By Michelle Hall. Fringe World. Directed by Alexa Taylor and Danielle Cresp. Rehearsal Room 1, State Theatre Centre of WA, Perth WA. Jan 24-29, 2021
Audiences entering the Rehearsal Room at the State Theatre Centre are greeted with a pink pram on the stage and the statement from Cyril Connolly: "There is no more sombre enemy of good art than the pram in the hall." The pram is pushed to the side and left there by Stage Manager Catherine O'Donoghue, a subtle reminder, as solo performer Michelle Hall proves this statement wrong, with this highly entertaining, very moving production.
The Dirty Mother is a theatrical experience played against a stand-up comedy routine of the same story, but this story behind the story, while at times outrageously funny, is also a protest against the system, a call to arms and travels to some very dark places.
Michelle Hall is a performance maker, teaching artist, community arts worker and yoga practitioner, and this wearer of many hats (including one in that show) has produced a show that touches many emotions - a true roller coaster of a show.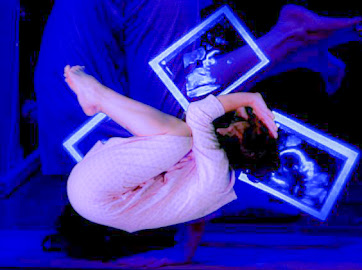 The story of her son's birth in a NHS hospital in England, which is understaffed and under resourced, will resonate with any person who has ever give birth, but its raw humanity, brutal honesty and moments of joy mean that it will appeal to anyone who has been through a birth (even their own).
While I have described her as a solo performer, Michelle shares the stage space with guitarist Sze Tsang, whose rock presence gives punctuation to much of the emotion in the play. Digital content is ever present, taking us back to the time and illustrating the experience - fabulous input from digital director Georgi Ivers and visual artist Megan Hyde.
It is rare to see the childbirth experience explored on stage - especially with such honesty and almost brutal realism, but this show that literally makes its audience laugh and cry is a hearty argument that this has been missing for too long.
Kimberley Shaw