Disclosed
By Caitlin Richardson. Three River Theatre. Earl Arts Centre, Launceston. Director: Peter Hammond. 12 – 15 November 2015.
Three River Theatre presented the premiere of a new work written by Caitlin Richardson at the Earl Arts Centre in Launceston in November 2015, a psycho-drama/historical play with a big theme. Disclosed is an investigation into the effects of isolation on those in captivity, in the new form of prison where ideas about the exercise of power were appearing in the colony of Tasmania and around the world. Physical violence was being replaced with more subliminal methods of bureaucratic control.
It's an inescapable fact Tasmania was founded on the backs of prisoners and their gaolers. Disclosed: a Port Arthur Dream in Three Cells is a highly dramatic play, set in the hell that was the Separate Prison in historic Port Arthur.
This new work by Caitlin Richardson is a trilogy of plays: The Visitor, The Clock Stopped, and A Broken Window, exposing the horrors of the Separate Prison system and its effects on its inmates. This cleverly written, well-researched and harrowing play, about the prison system in Port Arthur Tasmania in 1860, is more than a history, or a compilation of stories from history.
The experience of director Peter Hammond was evident throughout, with cliche's avoided, and tension building, even when we knew the situation for the prisoner to be hopeless. Ten actors lived their roles, with no "stars", as all characters and their stories were equally important. Disclosed was polished, with sustained tension, while still raw and emotional.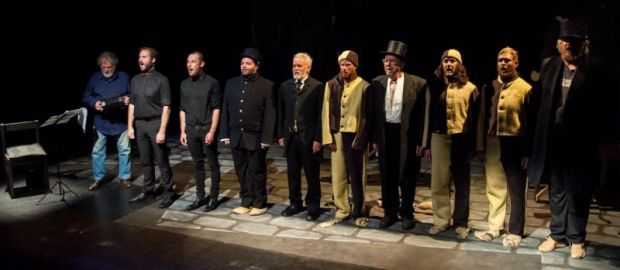 The stories and action were linked by The singer, Danny Spooner, whose traditional style permeated the mood of the starkness, isolation and lost hope of the prisoners.
History is usually presented from the point of view of those in power. Disclosed gives the audience an insight into the history of the convict era, while giving a voice to the voiceless. As we imagine the lives of our forbears, we can also gain an insight into the plight of the current powerless people in our society: think the refugee situation around the world.
It was a privilege to see such a high quality, new theatre work in its early stages. I hope that more audiences see it and explore its themes. Stunning new theatre!
Merlene Abbott
Photographer: Suzie Hinds Theatrical Photography