Disgraced
By Ayad Akhtar. Sydney Theatre Company. Wharf 1 Theatre., Walsh Bay, Sydney. April 10 – June 6, 2016
Ayad Akhtar's Disgraced was last year the most produced play in America, and deservedly so.
First time playwright he may be, but Akhtar won the Pulitzer Prize in 2013 for here so successfully forging flesh and blood characters from the conflict of urgent and commanding ideas.
At a dinner party with four now privileged New Yorkers, he throws in the powder keg of race, religion and the pull of tribal identity. In his smart Upper Eastside apartment, host Amir (Sachin Joab) has discarded his roots as a Pakistani Muslim for the garb of a corporate lawyer; although there's friction with his wife and artist Emily (Sophie Ross) whose newly successful paintings – perhaps not surprisingly for a liberal WASP – celebrates the Islamic aesthetic.
Isaac (Glenn Hazeldine), a Jewish curator in designer suit and trainers, is promoting her work in his next big show at the Whitney, so the mood is celebratory when he arrives for dinner with wife Jory (Paula Arundell). She's a sharp Afro-American lawyer in red heels.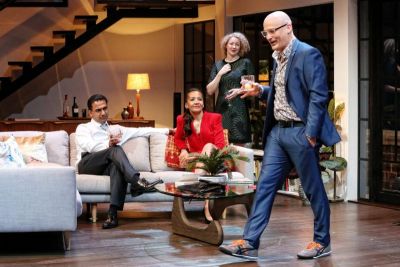 With lethal pacing and authenticity, this 90-minute play arcs through amiable banter to articulate social debate to a wrenching exposure of the prejudices and violence which lurks behind our civic reasonableness. A range of plot devices provokes further revelations and Akhtar artfully shifts our empathy from one character or argument to another. Especially through the fifth character of Amir's disillusioned nephew, Abe (Shiv Palekar), by the end we even understand why some take that journey to radicalisation.
Director Sarah Goodes outdoes her success with Switzerland, here orchestrating a uniformly fine cast in performances which are measured and emotionally compelling. Elizabeth Gadsby's cathedral New York apartment gives size to the play's themes, even to the (optimistic?) big sky beyond the balcony, and her costumes match character powerfully. While Goodes plays well with silences, Steve Francis' chanting soundscape adds mounting threat to this outstanding play.
Martin Portus
Images: Sachin Joab and Sophie Ross, & Sachin Joab, Paula Arundell, Sophie Ross and Glenn Hazeldine, in Sydney Theatre Company's Disgraced © Prudence Upton.