Disney in Drag - Once Upon A Parody
Fringe World. Auditorium 6, Palace Cinemas, Raine Square, Perth, WA. Feb 7-15, 2020
Disney in Drag - Once Upon A Parody has had a sell-out season for Fringe World, and promises that it will have more happy endings soon. Definitely not authorised by the Disney corporation, this is a wild ride of a show, that is one of the oddest homages to the Disney World you are ever likely to see.
To imagine how this feels, imagine a country amateur dramatic club, sponsored by Adult Shop, performing pantomime, to a combined (and wild) bucks and hens night - and you will come somewhere in the vicinity of this show. There are some really solid performances and some clever ideas, but not everyone can sing, and the acting isn't all up to par. Having said that, everyone is having a good time, so it probably doesn't matter - and there is a great message to take home.
Jae West as J, the central character, and panto prince type, anchors the show well, as this prince who sets out to find the owner of the glass slipper, under the encouragement of the beautiful Hairy Godmother (Owen Merriman).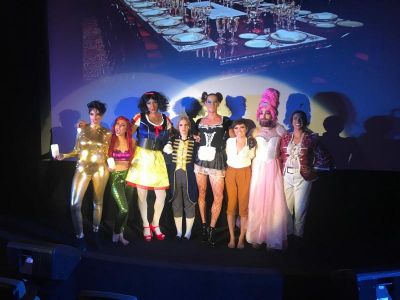 We meet a number of Princesses including the fetishist Ariel (Alex Nissen), Snow White who needs rescuing by an audience member (Stefan Testi), Pocohantas with a life affirming hobby (Mita Hill), Mulan (Ashley Nissen) and Jasmine (Joseph Andrin) - but none of them seems right, until J. makes an amazing discovery. There is lots of doubling and we meet lots of characters and learn lots of important things along the way, with some audience interaction, and some funny concepts. The dating ap. Cinder is a highlight.
Audio Visuals by Ben Kay and lighting (Anne Watson Wilson, Blaine Loveridge and Lincoln Russel) create atmosphere, turning this cinema space into a workable venue.
Disney in Drag isn't high art, but doesn't pretend to be, and it has great heart.
Kimberley Shaw