The Doctor
By Robert Icke. Almeida Theatre. Adelaide Festival. Dunstan Playhouse. February 27 - March 8, 2020
Is there any middle ground between Science and Religion? Can medicine play God?
The Doctor is a clever reimagining of Arthur Schnitzler's Professor Bernhardi. Starring Juliet Stevenson, this is an astonishingly thought-provoking piece of theatre- masterfully written, beautifully directed and superbly performed.
Schnitzler's play, first performed in 1912, deals with Viennese antisemitism towards a Jewish doctor held to task for refusing a Catholic priest permission to administer the last rites to a dying patient.
Robert Icke has cleverly brought the themes of the original play to the modern era and highlights that not much has changed.
As with the original play, a Catholic priest arrives to administer the last rites to a dying 14-year-old girl with sepsis. In this reimagining, this is as a result of a botched home abortion. The protagonist in The Doctor is converted to a middle class white Jewish female doctor (Stevenson).
Ruth Wolff (Stevenson) is the founding physician of the Elizabeth Institute which is searching for a cure for dementia. She is a brilliant physician, lauded by many for her skill. Whilst culturally Jewish, she is a non believer- preferring to only label herself as 'a Doctor'. When she refuses to allow a priest (Jamie Parker) who has come at the request of the girl's Catholic parents to give the last rites, a confrontation erupts. Wolff wants to protect the child from unnecessary fear and stress and the knowledge of her impending death.
When word gets out, after the girl dies, Wolff becomes the focus of a public outcry;in this version, throughsocial media. Ethics, religion and identity politics are called into play. The purveyors of being "woke" are quick to judge and convict Ruth's actions. This becomes viral and results in petitions and TV debates, steamrollering Ruth's career to a devastating end.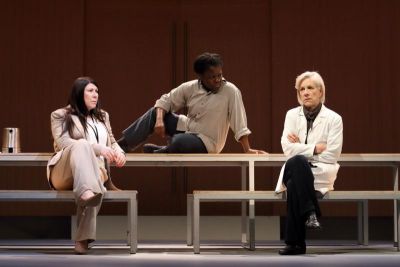 Icke has brought many contemporary themes to The Doctor- but prejudice and race play a big part.
The cast is extremely talented and handle the race and gender-blind casting with ease. Icke's creative discord in casting women to play male roles, black actors to play white characters and so on is at first jarring and intriguing but as the play evolves, encourages us to focus on the issues and ethics, not the people on the stage.
Likewise, in modernising the plot, Icke presents the media storm surrounding the circumstances of the girl's death as a PR crisis for the hospital. Wolff comments that this is a 'public hanging for the digital age'.
Stevenson plays the pivotal character of Ruth with consummate skill. Her Doctor is complex, acerbic and witty but a force to be reckoned with. Described by colleagues as BB (Big Bad) we see, in every mannerism, a woman who is in control when wearing the white coat. Interestingly, whilst she is brusque and hard on those around her when in this role, we see a softer, kinder Ruth through flashbacks to her relationship with Charlie (the only person she has ever loved- played by Joy Richardson) and see her caring interactions with a young transgender girl (beautifully played by Liv Hill) whom she helps with her homework and who she allowsto come to her home as a refuge.
Stevenson metaphorically runs a marathon in this play- remaining on stage at interval and transforming physically and emotionally from a woman in power and control, to a genuinely tragic figurewhose world unravels around her.
There are too many clever analogies and metaphors in this piece to describe all, but some which stand out in particular are- in the opening of the play when the cast walk on to the beautifully stark, clinical set by Hildegard Bechtler and put on their various uniforms, we are confronted with the concept of layering of identity and the fact that we all have labels. At the start of interval, we also see a downward-spiralling Ruth slowly remove her white coat inside out to demonstrate that her life has been completely turned about.
The conflict between the priest and Ruth confronts us with the issue of medicine 'playing God' and interestingly throughout the play there are references to witches- Ruth's home called the 'Witch house' by the local kids, that 'Doctors are witches in white', Ruth crying in anguish to the panel ripping apart her life that they could 'throw her out of their city walls"; such clever comment about faith versus medicine and a time when medicine was seen to be of the realms of magic.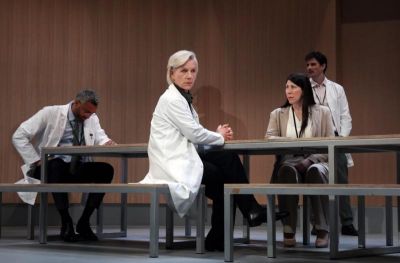 Whilst on the whole, Stevenson carries this play as the Doctor with effortless authority, she is surrounded by an outstanding ensemble who play characters and colleagues in the hospital as well as the intimidating panel members of a TV debate show in Act 2.
The set, as previously mentioned, is clinical and has overhanging fluorescent lights reminiscent of a hospital which are used to great effect to create mood. The stage also has a revolve which moves slowly and painfully, emphasising the circular arguments.When both sides of an argument become so deeply entrenched in their respective identities and sense of victimhood, it's hard to see a 'crystal clear' end.
Suspended above the stage is Hannah Ledwidge and her drum kit. The use of percussion throughout the play is clever and creates tension.
This play focuses upon identity- gender, sexuality, race and religion. It grapples with the role that our birth identity plays in our lives versus what we choose for ourselves. Ruth comments that "one should not dump people into piles" and refers sadly to the road we travelled in the holocaust when society was "chopped up" into identity groups.
The final chapter of the play finds the Priest from the original confrontation and Ruth coming together to discuss the outcome. Curiously, we realise that both are not dissimilar in the 'badges' that they wear- dog collar and white coat- and there is some clarity for both in the meeting of faith and religion.
The Doctor is absolutely mesmerising and keeps the audience taut and aware. An outstanding piece of theatre lead by one of the world's great actors.
Shelley Hampton