Dogfight
Music & Lyrics: Benj Pasek & Justin Paul Book: Peter Duchan. Bankstown Theatre Company. Director: Meg Day, Musical Director: Clare Moroney, Choreographer: Lauren Nalty. Bankstown Arts Centre. March 16 – 24, 2018.
Bankstown's Dogfight is not just a great show, it's a powerful and emotional experience.
Meg Day's direction and set design, Clare Moroney's musical direction, Lauren Nalty's choreography, Rod Bertram's evocative lighting and sound, the orchestra's playing, and John Plaege's props all combine to make an effective and professional-looking production. Add to that a cast in which there is not one weak link and you can get ready for the heartstrings to be pulled.
The show is adapted from the 1991 movie of the same name. On the night before they are sent to the Vietnam War, three young marines celebrate their last night of freedom with booze, tattoos, sex, and playing the dogfight: a cruel game to see which one can bring the ugliest girl to the dance. The girls are not to know. One of the marines (Eddie) gets more than he bargains for, as his chosen victim (Rose) is an idealistic young woman who awakens in him a conscience, morals, respect, and all those other icky things that are not supposed to exist when playing the dogfight. We follow what happens to the marines, and to Eddie and Rose, during and after the dogfight, and during and after the marines' time in Vietnam.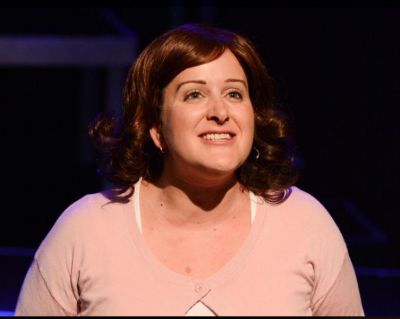 The show is a timely reminder that misogyny and sexual harassment have been around way before Weinstein. As one of the men says: marines have been playing dogfight since the Constitution. It's implied that the activity is encouraged as it's a way to further de-humanise soldiers and unify them with a "bros before hos" mentality, this being one way to help make an effective killing machine in the field. Some of the characters are painted with stronger shades of grey than others, but none of them are of the one shade. In particular characters like the tough prostitute Marcy and viciously repulsive alpha marine Boland provide some thought provoking moments in trying to survive in an inhumane world.
We also get glimpses into America's gun-obsession, male self-entitlement, PTSD, and the poor treatment of returning vets at the hands of a society supposedly all about peace and love. Despite the immensity of all this, the show is told in an entertaining and simple way, so this is no heavy night of ideas.
I didn't just feel like I was watching a show; I felt like I was actually there and involved with all the characters, and I must admit to getting teary at the end of both acts. It's a testament to how effective a show can be without elaborate and oversized sets and special effects; where the most effective special effect is the cast.
I'd like to mention individual cast but this would be unfair to the whole cast. This really is one of those shows where everyone shines and the performances are pitched at the right level. This is crucial, because some of those songs and scenes could have easily been overplayed into silly pantomime if not approached properly.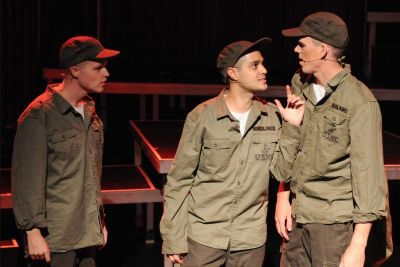 With regard to Meg Day's multi-tiered set, it had an impact that the only set that was "complete" was Rose's bedroom, with all the other sets only being suggested by a mere prop or lighting change.
Some of you will be keen to see this show because you've discovered the songs of Pasek and Paul from The Greatest Showman. The score does not have the hip-hop froth of The Greatest Showman but is instead filled with more complex melodies (beautifully sung) and harmonies (perfectly nailed) that currently do the rounds in modern musicals. A friend described it as "Sondheim writing pop songs" and I'd have to agree.
The only thing that I felt could be refined was a scene in Act 1. It's a crowd scene and there's lots going one. One of the Ensemble stole the show in that scene with some brilliant upstaging. The good thing was that we just couldn't take our eyes off this person and for the whole scene we were watching what this person was going to do next. The bad thing was that we just couldn't take our eyes off this person and for the whole scene we were watching what this person was going to do next. Much of the principals' dialogue was missed. It's a matter that can be easily resolved.
It's a simple tale but told so well. Highly recommended.
Peter Novakovich