A Doll's House
By Henrik Ibsen. Sport For Jove. Reginald Theatre, Seymour Centre (NSW). July 17 – August 2, 2014
There are good actors and then there are actors with X Factor. Just like there are good roles and then there are roles with that extra something-something. Matilda Ridgeway in the role of Nora in A Doll's House is double-whammy X Factor goodness. It's pretty exciting.
Ibsen's A Doll's House is a tried and tested terrific play. Nora Helmer naively commits a crime in an act of love to save her husband's life only to find - when her sins are exposed - that all the joy and happiness she thought to be true are baseless.
Sport For Jove - under the ever capable direction of Adam Cook - lets audiences hear Ibsen's 130-year-old words with fresh ears. Long-abandoned turns of phrase sound hip and cool, and for once neutral Australian accents don't sound crass. It certainly helps that Ibsen's words are delivered by fine acting talent.
Anthony Gooley's Krogstad is irritatingly pathetic but at the same time sympathetic, Francesca Savige's Kristine is weak yet holds an inner strength, and Barry French's Rank balances just enough enthusiasm with defeat.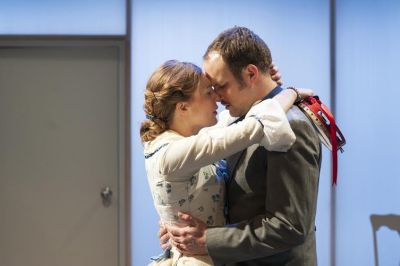 Annie Byron as Helen is lovable, and real-life brothers Bill and Tom Blake playing little Ivar and Jon (alternating with Massimo Di Napoli and Noah Sturzaker) are absolutely adorable.
Douglas Hansell manages a semi-likable Torvald – a feat considering getting the audience to feel sorry for Torvald at all is a challenge. Hansell crafts a well-developed man bound by society and its oppressive morality.
Matilda Ridgeway is a star. Her Nora is neurotic, detailed, impulsive and a thrill to watch. At times it seemed a battle for other performers to synch with Ridgeway's energy, which, in this case, only heightened the doll stuck in the doll's house metaphor. What's next for Ridgeway? Something big I think.
Sport For Jove win yet again at making "old" plays new. Ibsen's A Doll's House is far from dated; its messages and meanings are potent and striking, and, in the hands of Sport For Jove, skilfully hit their mark.
Maryann Wright