Don't Hate the Player
Adelaide Fringe. Star Theatres, Adelaide. 5-8 March 2020
What's the difference between actual and virtual realities? Not much, according to Laura McDonald's play on being both trapped and liberated by technology.
Madeleine Osborne is Darcy, a young woman who spends much of her time living in a virtual reality headset, the game setting her challenges that distract her from the real world. Rhiannon Watson is, like, her 'cool sister', who has a job and a string of ex-boyfriends, reluctantly drawn into the game after her breakdown about her break-up.
As soon as Osborne and Watson speak, we know who and what these women are – and there's not much more to reveal through the play; both are better in the rare moments where they stop shouting and play against type, where neither character is sure how to express the compassion she has for her sister.
The computer-generated character in the game, a "CPU" called Reg (Cassius Russel), is an all-smiling, all-knowing man in a suit, ready to devastate without tact. Russel provides the sinister through his emotionless lines, whether it's asking for access to everything you've ever written on the WiFi or recalling spiteful messages from one sister about the other. His omnipresence reinforces everything we fear about typing our secrets into our devices.
Altharv Kolhatkar's Ashaan is much more interesting: he's culturally and geographically different from the Sydney-side women who aren't certain if he's real or a CPU. In the game he's a runner for a drug-lord, involving the reluctant Darcy and Gabriella in his – and their – challenges. Kolhatkar brings to life the ambivalence of pretending to be someone you're not and is believable in his character's struggle to understand what is real – and why it's important.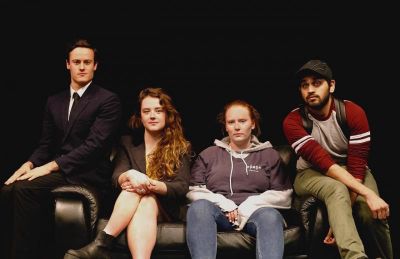 McDonald's narrative does try to examine important life themes: its purpose, the role of family, consequences of actions – and even death, but it seems more interested in mining the dirt, leaving the gems in the ground.
Melanie Tweddell's theatrical debut as a director plays safe with the performers – though some continuity issues jar the transitions between actual and virtual realities, divided by the change in lighting, which illuminates only the stage. Music is used to overwrite rather than underscore; and the permanent set of a sofa and coffee table is a reminder that the game is still reality.
There's clearly a lot of talent and potential in every aspect of this show from Sydney-based creative duo Appletown Productions: it could be an episode of Black Mirrors yet insists on playing its game in "Novice" mode, when it's good enough to step up to "Expert".
Mark Wickett